Warframe's Shrine Of The Eidolon Is Launching This Week With The Warframe And Waepons Overhauls


It began with the Old War.
"The Sentient was a deformed creature, sent from some dark fold of distant space, crushing towers and citadels across Earth…"
Until meeting its fate in a climactic battle.
"The device detonated. The Sentient's body shuddered, wracked by a cacophonous energy. Fragments of the Sentient crashed to the Plains and marshes and flatlands…"
These fragments are known as the Eidolons — mysterious titans that continue to wander the Plains and loom over the people of Cetus.
Most of you have seen the Teralyst, a beast that rises from the watery depths every night. Legends speak of two more Eidolons that fell to the Plains, dormant for centuries but ever present in the hearts and minds of the Ostrons.
Eidolon Hunters eager to prove their worth are trying to summon these creatures again. Are you worthy, Tenno?
GANTULYST
Legends say the Gantulyst wields an enormous boulder for an arm and radiates powerful beams of Sentient energy. The Ostrons built a shrine in its honor hoping to gain its favor.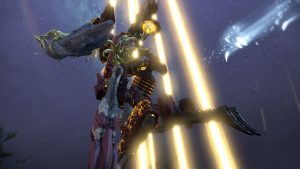 HYDROLYST
The Ostrons believe the Hydrolyst is an omen of impending natural disaster. Stories describe a distinct, pungent aroma that precedes the arrival of this toxic beast.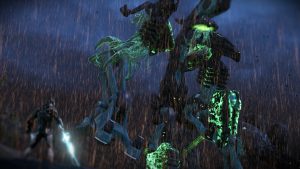 RIVEN TRANSMUTATION
If you're worthy, you'll receive Riven Transmuters from the new Eidolons. These consumable items can transmute four Riven Mods into a brand-new Riven. Combining four Rivens of the same type (i.e Rifle, Melee, Shotgun, etc.) will result in a transmuted Riven of that type.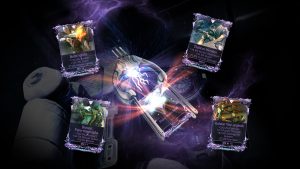 DRIVE THE DARGYN
Take your fight to the skies by hijacking any Dargyn in the Plains. Use these to aid in your search for the new Eidolons.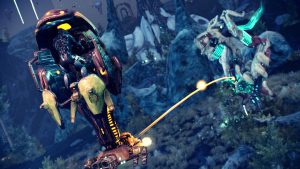 WARFRAME POWER & WEAPON CHANGES
In case you missed it – we're doing some Warframe and Weapon rebalancing! Check out our Dev Workshop to get a deep dive into what we've changed and why.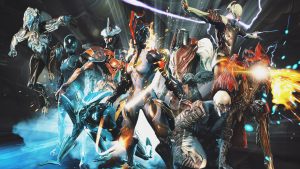 Get ready, Tenno! The Shrine of the Eidolon Update is coming this week!