Pact Supply Network Agent: Daily Offers And Exact Vendor Map Locations

Pact Supply Network Agent
You will gain access to these special karma merchants by training the
third line of the Pact Commander mastery, Supply Line Management.
(Keep note: Heart of Thorns expansion required)
There are six merchants in total, one per region of Tyria.
Their locations change daily, and you may only purchase one item per vendor per day.
Every merchant sells 3 items.
1: 

 Torn Page from "Tyrian Pact Survival Handbook" (Rare) for 7,777 

.
This item grants a random Rare crafting recipe.
2: 

 Pact Scout's Mapping Materials (Masterwork) for 5,250 

.
This item grants 200 map bonus reward points for the current map the character is in.
3: Random Recipe (Exotic) costs 25,200 

. (This item changes daily)
A random Exotic Recipe that changes daily. 
You can recognize their location on your map by the following icon: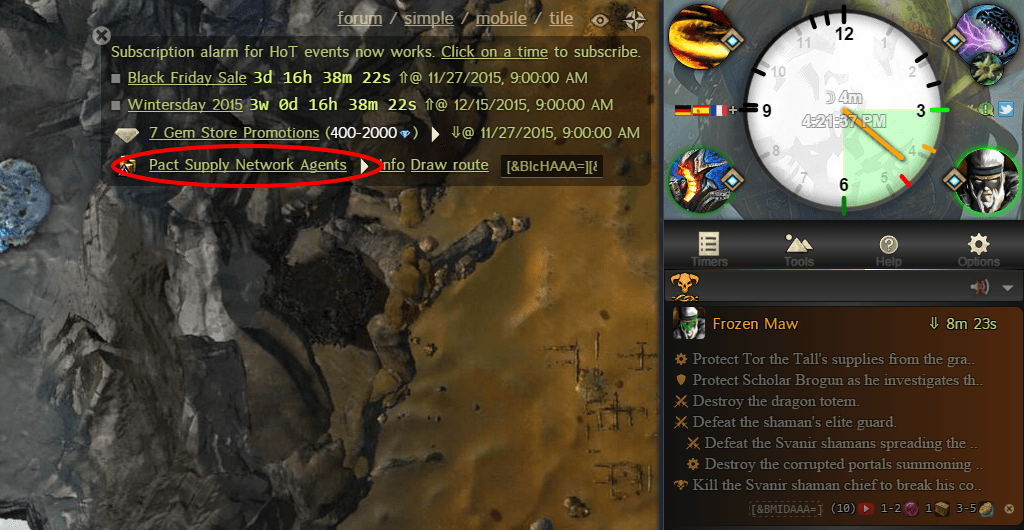 Usage Notes:
"Draw route" click that link to make the website draw pinpoint locations of the vendors.

Chatcodes in the input box can be clicked to copy and paste a chatlink of the nearest waypoint/POI to the vendors.

Item names can be clicked to view their respective vendor.

Item icons can be clicked to view their wiki page.

The coin prices are lowest TP sell price after tax.