Project Genom Huge Alpha Content Update Now Dated for May 7th


Introduction
Hello, friends ! This week like planed, on the main server was loaded an additional test game branch migrated from PTS servers. Due to the fact that access to it open only today, we decided do not a separate news but share this information in today's weekly repport. If you didn't participated in various closed tests, then below you can read a short guide on how to get access to the test branch. Also due to migration of PTS to test servers, access to PTS will be close to all.

Another important news this week was the decision on the date of transfer of PTS from the test servers to the main servers. The first update of mains servers, which we all has been waiting for more than a year, is planed for May 7, 2018. By tradion, we will launch a timer on the official website of the game, counting down the time until the update. Starting from this date, the project will be actively developed and constantly updated on the main servers.
We want to to remind you that this still an alpha version of game in early acces where a bunch of mechanins are missing ,and bugs, optimizations problems, wipes are possible. Buying a game now – It's for help in the development and support of the game. If you want to enjoy a full game experience, we don't recommend buying it now and wait a official beta version or release. We hope that this transition will happen quite soon.

Access to test branch
To access loaded test game branch transferred from the PTS versions, you just need to have an activated copy of the game on Steam, where you will enter privatetestserver code in the beta field.
In the Steam client, right-click on the Project Genom.
Click Properties.
Select the BETAS tab
Enter privatetestserver and ckick on CHECK CODE.
Select the test – version in selection list.
Done! After that, the test version of the game will be installed as a regular Steam product (by clicking the "Play" button). When you start the game, you can choose between a test branch or a regular version of the game.
Software
This week our main tast was the transfer of PTS version to the test branch of the main server. As well some adjustments and settings were done.
First, we added the support of regions. Actually additionals servers have been deployed in North America. Players will have a choice between America and Europe.
French and English localizations were expanded.
Additionals settings for the maximum resolution of textures were added. For video cards with 1GB of memory, you need to choose low, 2GB of memory – medium, 4GB of memory – high, 6GB of video memory – epic. Changing the resolution of the textures will require a restart of the game. This one setting can give a significant performance boost, so don't neglect it.
During the week, screens modes settings were revised. An additional option was added for a real full-screen mode.
Added various news models for quests objects.
In addition a lot of bugs were fixed this week. Including error with loading of intermediate stages of quests, problems with localization of stages, errors with artificial intellect of mobs, bosses and some flaws in interface. New opponents were added, also NPCs in the Ark were reworked and tuned.
World
This week, work on the creation of various importants quests zones was continued, which are prepared for update on mains servers.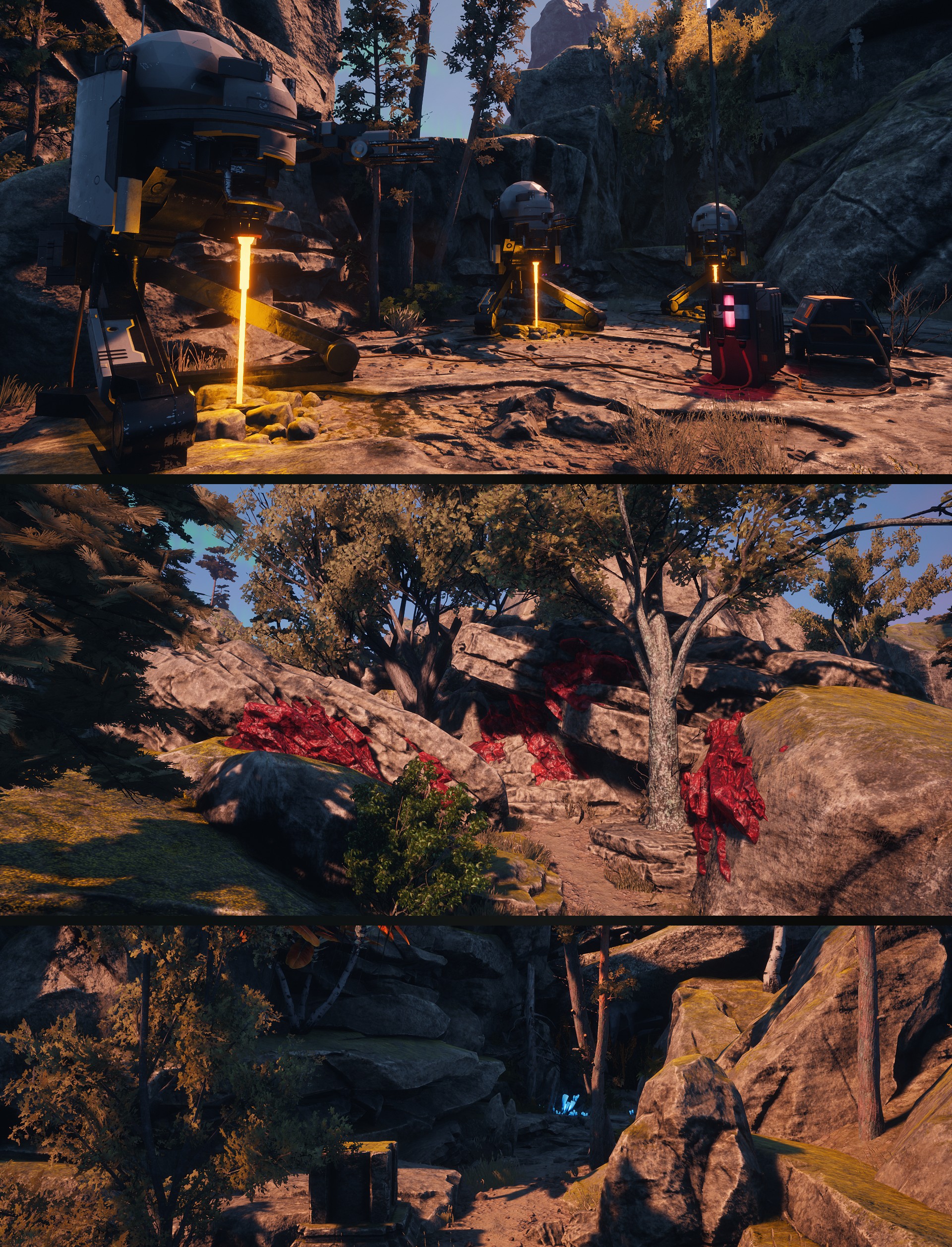 Opponents
This week, work began on creating animations for slider's larvas.
This week, work continued on creating various effects among opponents, from skills and also effects from interaction with the environment.
Conclusion
This week, the project finally reached the stage of update on the main server of game. We all waited this moment. Many people had time to despair, or forget us but even more people helped us all this time. For test the game and move the project in the right direction. Without our players, our testers, this transition to the main server would have delayed for an unknown amount of time. Thank you all, friends!
Over the past year and a half, the project has changed dramatically. There is no more a single sequence of old code left in, the world changed completely, spreading over 100 square kilometers filled with a completely new nature and zones. Most of quests were rewritted and improved, and added dozens of new quests. All opponenst were completely redesigned with news models, animations, conducts and balance. New mobs were added. The character and his controles have completely changed, customization has been added, the interface reworked and many more changed have occured. This is completly a new game that took all the best from the previous version, without change his fundamentals, didn't forget primises and will turn into a full-fledged MMORPG, which we are all waiting!
Once more, we want to remind that from now, PTS servers officially are closed. Now the test version of the game, which was on PTS, becomes available to all players without registering on the forum and some complicated activation actions. Until the 7th May, game will be available in a separate test branch, which can be easily actived by using privatetestserver code in the Beta tab in Steam. After the 7th May, this version will be moved on the main server and will forever replace the current version of Project Genom. So if you want to enjoy one last time flights in the heavens with ATV, fight with a black boot screen , see a small world and try to find Mithra without any help and maps – you have only 14 days left before we remplace the main version of the game !
And, once again, we want to remind everyone considering purchasing the game that it's still in its Alpha stage, and we don't recommend buying it if you expect a full-fledged finished project. By purchasing the game now, you support the development and have an opportunity to see its early stages. If you want to enjoy a full game experience with the maximum number of game mechanics and no critical errors, we advise you to wait until the project enters the beta testing phase or even later.
Source: Project Genom