Warframe Reworks Saryn Once Again With Its Latest Patch


Saryn Revisited:
Our lady of poison is taking the center stage with Saryn Revisited 2.0! Yes, that's right! She has been revisited for a second time, and this time we took a closer look at increasing the fun factor by removing layers of complicated synergies and giving Toxin Lash and Molt a long deserved encore.
Read all about our intent and full details on the changes in the official Saryn Revisited 2.0 Dev Workshop!
Spores
Inflicts target with a pox of Corrosive spores. Spread spores to nearby enemies by destroying them or killing their host (*Specifically by the spores themselves or by the hand of the Saryn who owns those Spores). Trigger the ability again to detonate active spores. Additionally:
Increased Status Chance from 10% to 50% (scales with Ability Strength).
A meter in the bottom right corner of your screen will show the number of affected enemies and how much damage is being dealt per tick to said enemies.
Recasting Spores detonates all active Spores and will deal 2x the damage on an inflicted enemy based on the number of active Spores and the current damage per tick.
Venom Dose Augment: Spores cast on allies temporarily grant them additional Corrosive damage to all attacks.
Molt
Shedding her skin like a snake, Saryn leaves a decoy behind to draw fire from enemies.  Additionally:
After casting, Saryn receives a momentary speed boost for a short duration.
Molt now scales similar to Rhino's Iron Skin – All the initial damage it takes in the first 3 seconds will make it stronger. Any damage it receives after that point will target the absorbed health.*

*Damage absorbed is shown in a buff indicator at the top of the screen.
*Once all absorbed damage has dispensed, Molt explodes dealing Toxin damage to nearby enemies. 
Toxic Lash 
While active, attacks deal additional Toxin damage; this effect is doubled for melee strikes. Instantly burst spores when attacking afflicted enemies. Additionally:
Increased Duration from 30 seconds to 45 seconds.
Toxic Lash no longer grants 2 Energy restore when bursting Spores – With the new spreading nature of Spores, survivability of Molt, and the increased duration of Toxic Lash and Miasma, Saryn is not as Energy hungry as she was before!
Contagion Cloud Augment: Kills with Toxic Lash leaves behind a Toxin cloud and Melee kills double the damage dealt by the cloud.
Miasma
Release a poisonous miasma that deals Viral damage to enemies in range. Foes afflicted by spores are more susceptible to the mist. Additionally:
Now has a 100% guaranteed Viral Status Effect on damage tick.
Increased range from 15 meters to 20 meters (at max rank).
Increased duration from 3 to 5 seconds.
Miasma inflicts double damage on targets affected by Spores.
When recasting on the same enemy it will refresh the tick duration and maintain the Viral Status Effect, but will not stun enemies a second time until the Status Effect ticks have subsided.
General Changes to Saryn: 
Increased Saryn's Armor from 175 to 225 (at rank 30)
Increased Saryn Prime's Armor from 225 to 300 (at rank 30)
Made some minor FX updates to Saryn's abilities!

Spores received a slight improvement to the FX.
Reduced the brightness of Miasma.
Improved FX to make her Molt cast more pronounced.

Spores have been optimized and will be much nicer to your CPU!
Saryn is also coming with a whole new set of sounds voiced by [DE]Danielle!!
Added Abilities screen stats for Saryn Molt speed buff & duration.
We hope you enjoy experimenting with her changes. We will be watching closely for your first impressions. As always, we appreciate your constructive feedback and encourage you to thoroughly play with the rework before sharing your thoughts: https://forums.warframe.com/topic/957215-update-2220-saryn-revisted-20-feedback-megathread/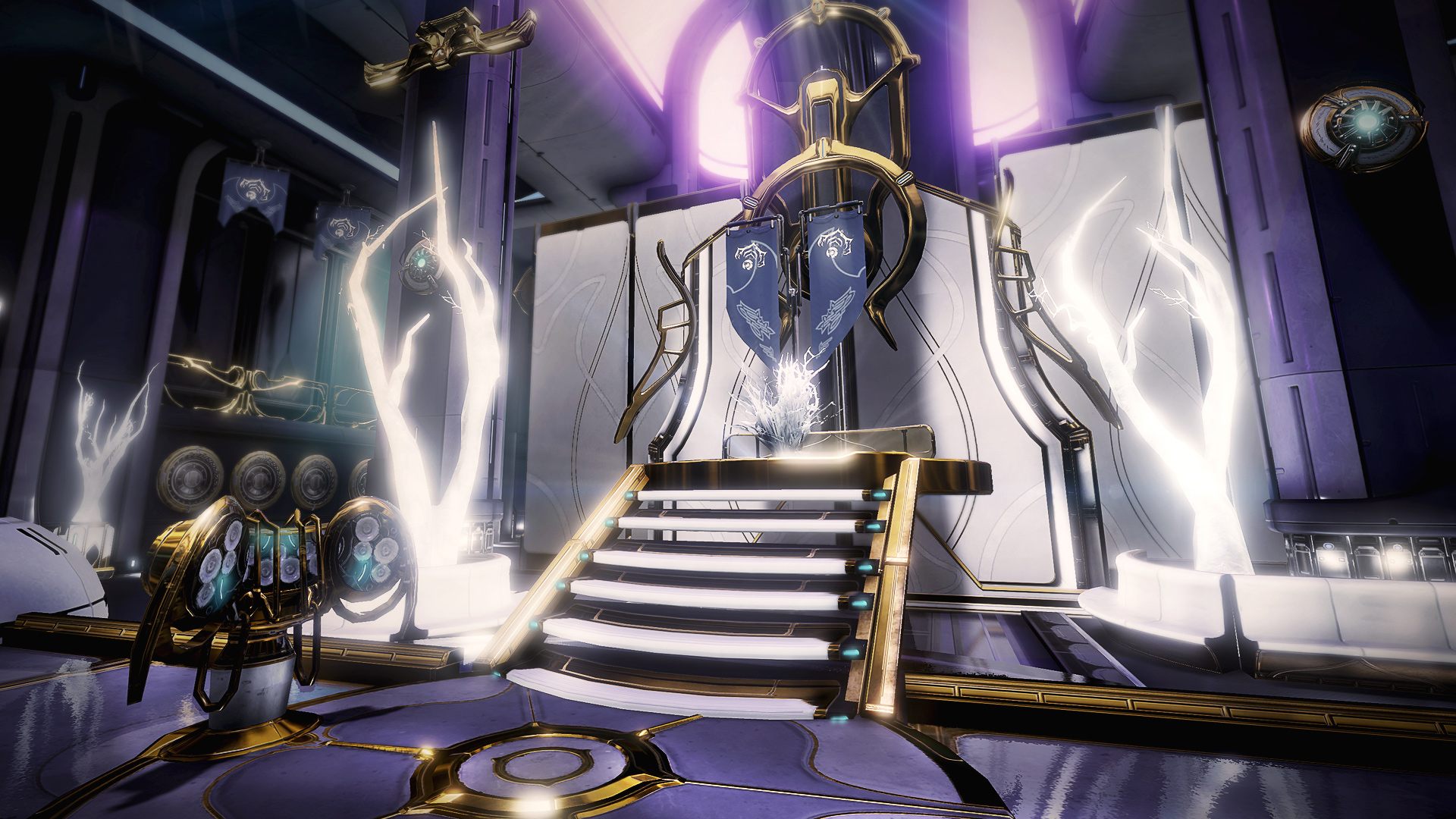 Dojo Remaster Part 2! 
If you recall, we added enhanced Dojo Decorating earlier this year with some other minor changes. Part 2 has arrived, and it brings with it new visuals and a highly anticipated room!
Lighting Remaster!
Polychrome has a new function: Room Lighting Controls! Construct and place a Polychrome to explore all the new lighting and fog options for each room in your Dojo!
Obstacle Course Architect!
Construct your own custom Obstacle Course with the Obstacle Course Architect in your Dojo! Create elaborate courses and have your Clan compete for best times! This is only a sampling of the different obstacles you can use:
Disappearing platforms!
Deadly frickin lasers and pressure-pads that you should avoid at all costs!
Dummies you need to kill to complete the course!
And much more!
New Decorations & Pigments!
Added 37 Tenno Decorations and 54 Orokin Decorations for your Dojo renovating pleasure!
Added new Pigment colors dropped by the following enemies:

Shard Black: Vomvalysts
Tower White: Condrocs
Devar Grey: Tusk Bombard
Wisp Grey: Skiff Pilot
Mortus Pink: Kuakas
GPU Particles have arrived!
Did you miss our Dev Workshop!? Read it quickly here – it's short: