Gloria Victis Fight for fame in ranked arena duels! (Update v.0.8.2.3)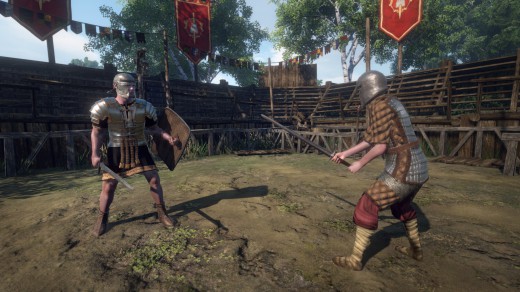 Need a break from waging war and raiding enemy lands? Take part in a duel or two and advance in just introduced arena ranking! Sign in to get matched to your opponent, defeat them and become a world-known duelist!
Besides of arena ranking, this update also includes tons of gameplay improvements and fixes. Also, we'd like to remind you that the current Glory season will last only for the next week so it's your last chance to move up the leaderboard and get precious rewards!
Moreover, don't miss the PVP event which will take place on Sunday, May 27th! Group up for 5v5 battles and join us in the arena on the [EuropeWest] Wolfield server at 8:30 PM [GMT]. The winners will be immortalized on the in-game monument and every participant will be rewarded, so sharpen your weapons and fight for fame!
See you in battle!
Changelog v.0.8.2.3
Gameplay:
– Introduced PVP arena ranking – from now on you can fight in ranked duels and advance in the leaderboard; you can register to fights or move to watch other fighters by clicking a button at minimap
– Increased range of hit detection for kicks, overhead and stab attacks
– Improved headshots detection on NPC enemies
– Temporary reduced the crafting levels required to craft alchemic products – acids and their ingredients – to 0-21 so it will be possible to level up this profession before its' update goes live
– Moved the Sangmarian Last Stand world event to proper place at Fort Serai
– Numerous improvements to Fort Serai
– Reduced doors HP in main buildings of minor flags near Baalhammon
– Moved the recently added instantly respawning resources nodes from the outskirts of Seaclaw Mine to its' center
– Restored requiring Hydrochloric Acid to craft Dziwer Sheet
– Added displaying footprints of player's character (only your character, for performance reasons)
– Added possibility to purchase Simple Sword recipe from NPCs in the area of crafting quests (starting quests)
– Numerous improvements and fixes to starting quests
– Improved the in-game registration procedure
Fixes:
– Fixed an issue with calculating chance bonus to create high quality items depending on the player's amount of Mentor Points
– Fixes to descriptions of events on capturing and upgrading the recently added forts located in non-looting zones
– Fixed an issue allowing to move item to deposit while reinforcing it
– Fixed wrapping the chat text if the font size was different than default
– Fixes to issues with NPCs visibility
– Fixed an issue causing not displaying the Newcomer (green leaf) status on characters created on new accounts
– Fixed to translations in character creation menu
– Fixed name of Quartermaster of Hordun Temple
– FIxed shop of Prosperous Merchant in Hordun Temple
– Fixed an issue causing scaffolding being invisible when upgrading lumbermills
– Fixes to Area of Interest system
– Numerous fixes to reported bugs and level design glitches