Monster Hunter World:The Autumn Harvest Fest Is Now Underway At The Celestial Pursuit!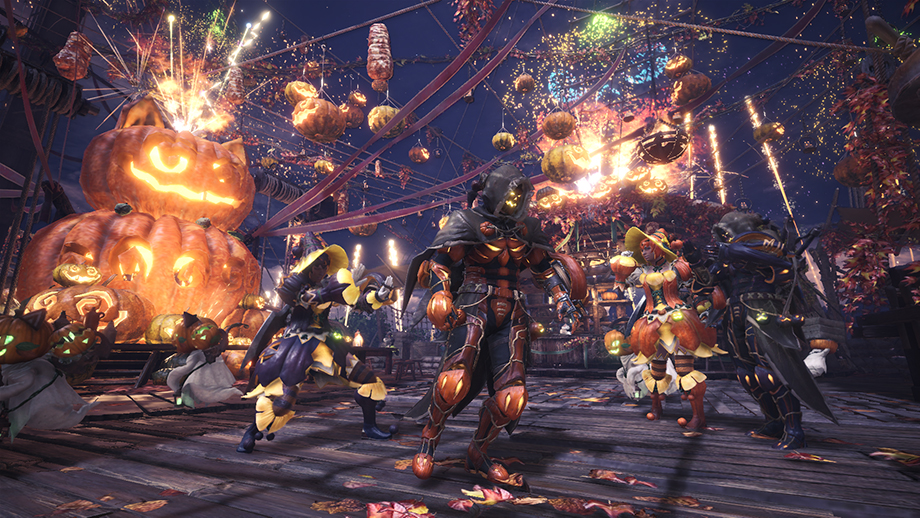 Event Period: September 21, 2018 – October 4, 2018 (UTC)
You'll find the Celestial Pursuit bedecked with decorations, and the staff garbed in their autumn colors! Not only that, but your Poogie and the Handler will also have some special costumes!
For the duration of the event, almost all previously released event quests, including exclusive Autumn Harvest Fest quests, will be made available. Your daily login bonus, limited bounties and more will feature some very special surprises for you! You'll also have the chance to obtain some special Autumn Harvest Fest items and equipment!
You will also find special seasonal platters in the Gathering Hub, and items or services at all facilities will be available at reduced costs.
Take a Look at What's New for the Autumn Harvest Fest!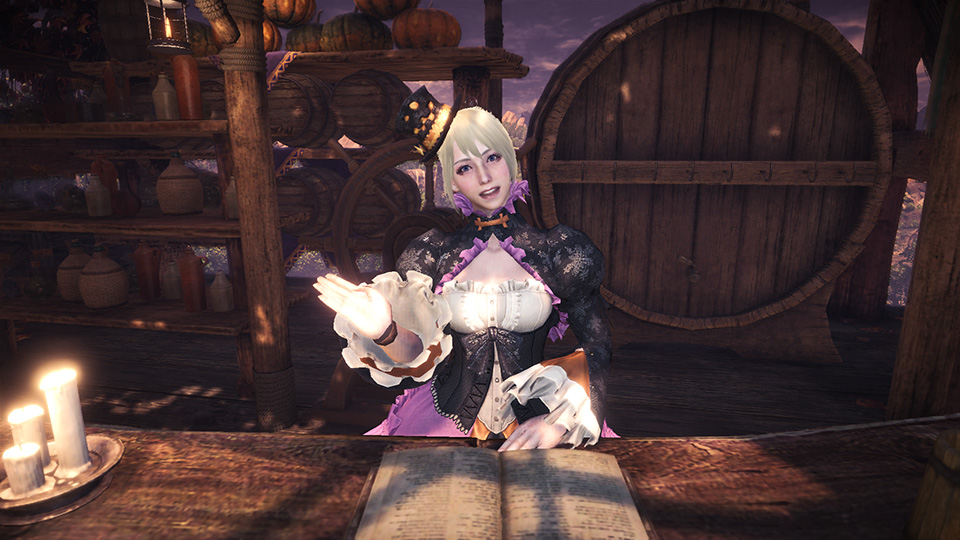 The Hub Lass, Arena Lass, Event Manager, and Hub Provisions staff will be there to greet you in their finest fall fashion!
Event Quest Extravaganza
Event Period: September 21, 2018 – October 4, 2018 (UTC)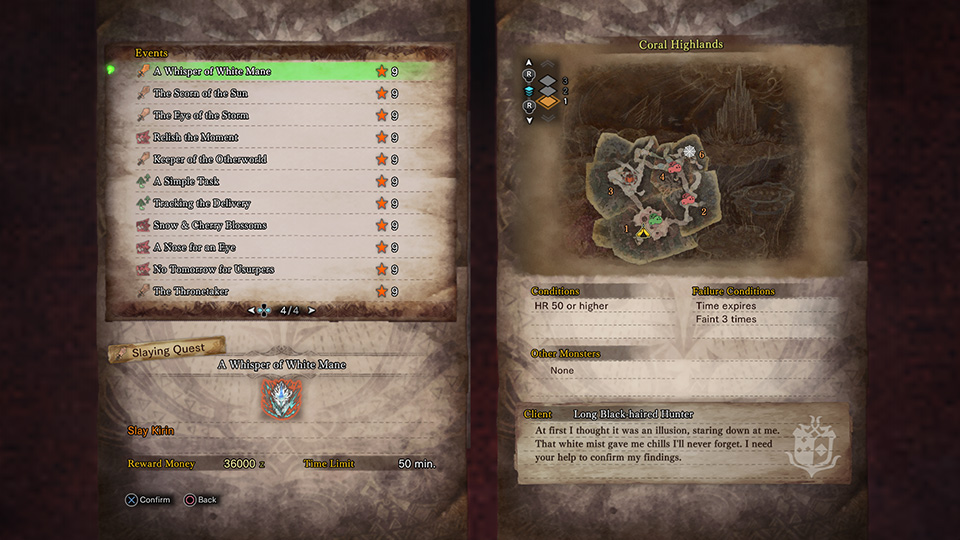 For the duration of the event, almost all previously released event quests, including exclusive Summer Twilight Fest quests, will be made available. Some exceptions apply, but there's no better chance to hunt for materials for any special equipment you may have missed out on!
Earn Materials from Seasonal Event Quests to Forge Special Armor Sets!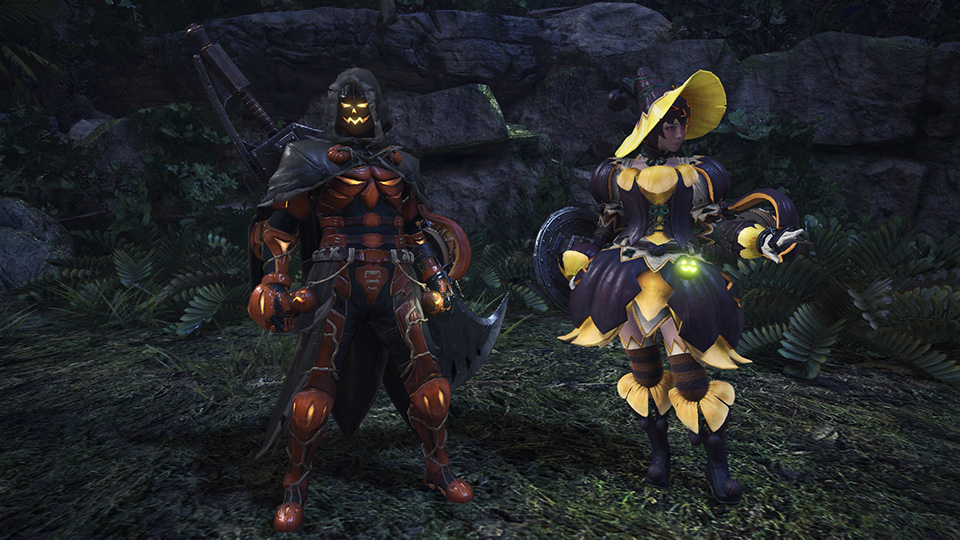 ollect the limited-time-only Autumn Harvest Tickets to craft armor that's perfect for the season!
Try forging the "Harvest" series (pictured left: low rank armor set, male) or the "Harvest α" series (pictured right: high rank armor set, female) at the Smithy!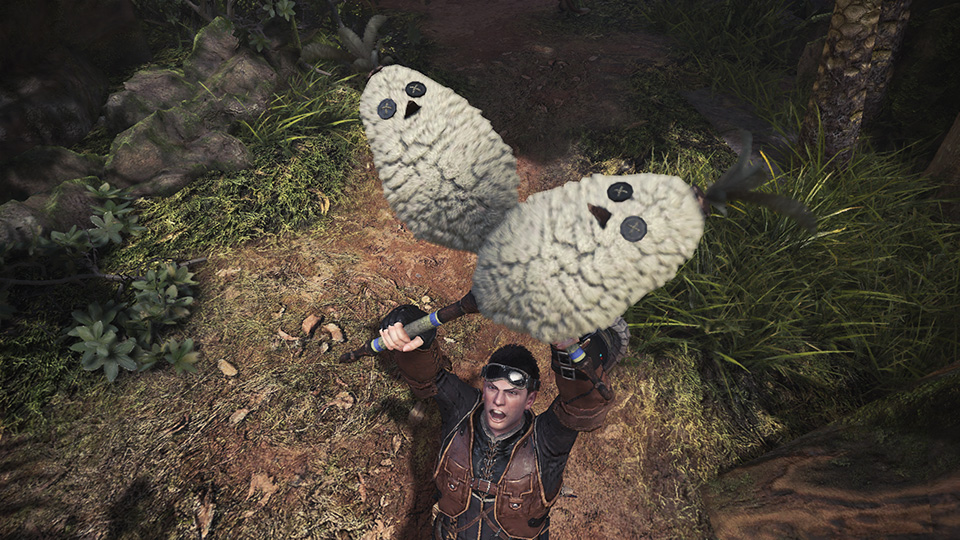 Complete the event quest "Where Sun Meets Moon" to get Downy Crake Tickets. You can use these tickets to craft "Downy Crake Brooms," new dual blades that really capture the spirit of that rare, legendary bird the "Downy Crake"!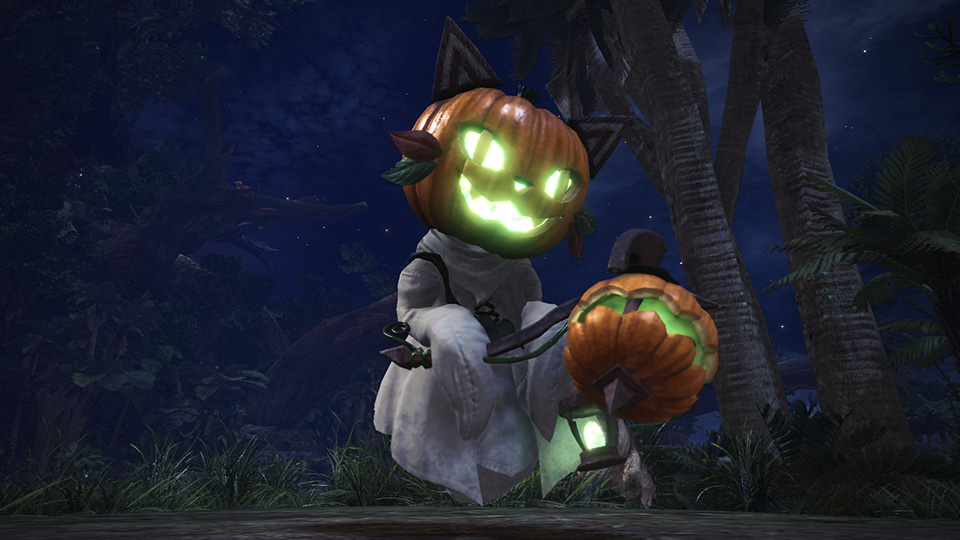 Autumn Harvest Tickets can also be used to forge the "Ghost Set" series of Palico armor! Have your Palico look the part of a "trick"-loving phantom by "treat"ing them with this spooky new get-up!
New "Layered Armor" Offers More Ways to Change Your Appearance!
Get into the spirit of the season with these special outfits!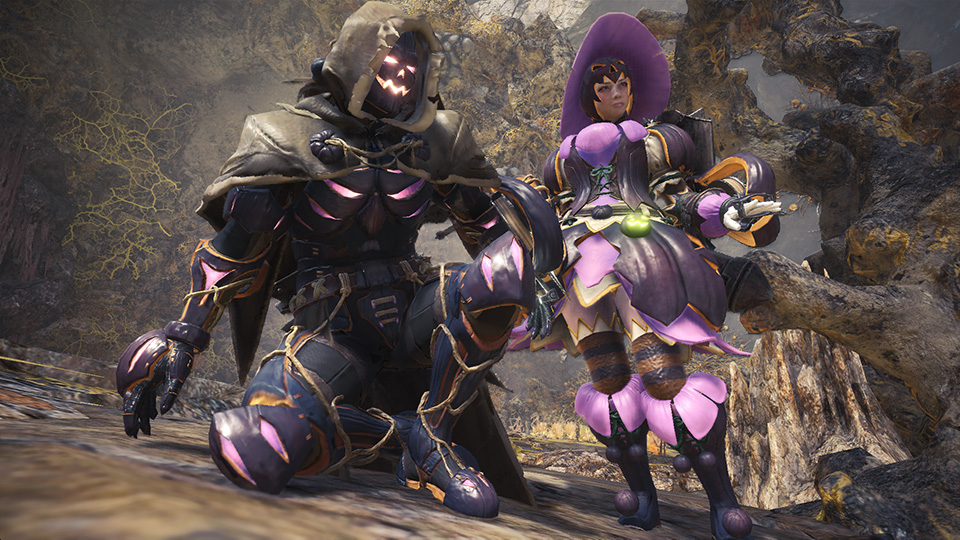 "Harvest" layered armor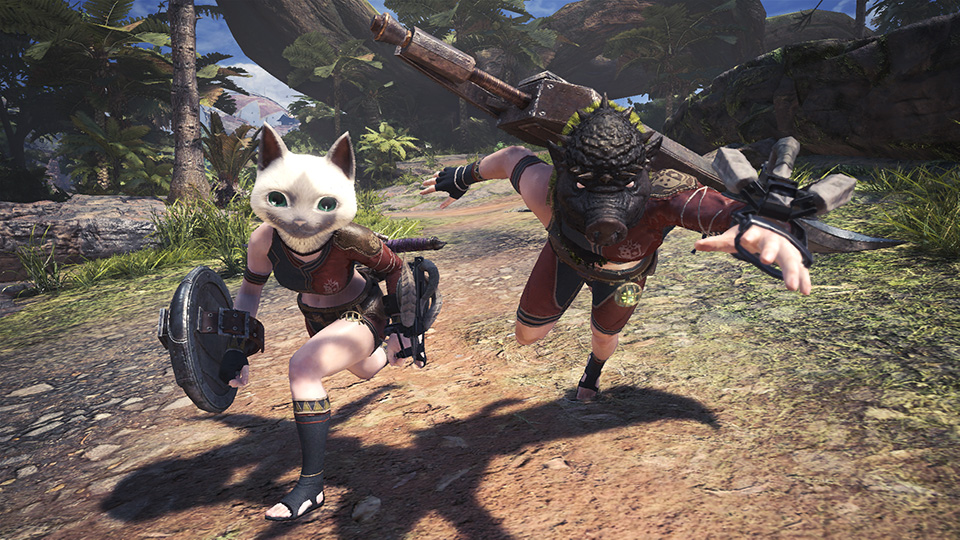 "Faux Felyne" layered armor
"Mosswine Mask" layered armor
Other Features are Getting a Seasonal Boost, Too!
Facility Sales
The Autumn Harvest Fest will include special sales at all of the facilities in Astera! During a sale, you'll be able to purchase items or pay for other facility services at reduced costs. A sale period is indicated by a special ship docked in Astera's harbor, along with a unique musical track playing in the background. Sales trigger for all online players at the same time, so if you notice a sale going on, be sure to let your hunting buddies know!
Login Bonus and Limited Bounties
For the duration of the Autumn Harvest Fest, your daily login bonus of one Lucky Voucher will be increased to two! You'll also get an Autumn Harvest Ticket! Limited bounties will be on a daily rotation, and you'll also be rewarded with Autumn Harvest Tickets and Harvest Fireworks as limited-time seasonal rewards! Gold Wyverian Prints will also be available as rewards every Sunday and Wednesday while the event lasts!Note: You can also make Harvest Fireworks at the Elder Melder by using Autumn Harvest Tickets as ingredients.
Limited-time Autumn Harvest Platter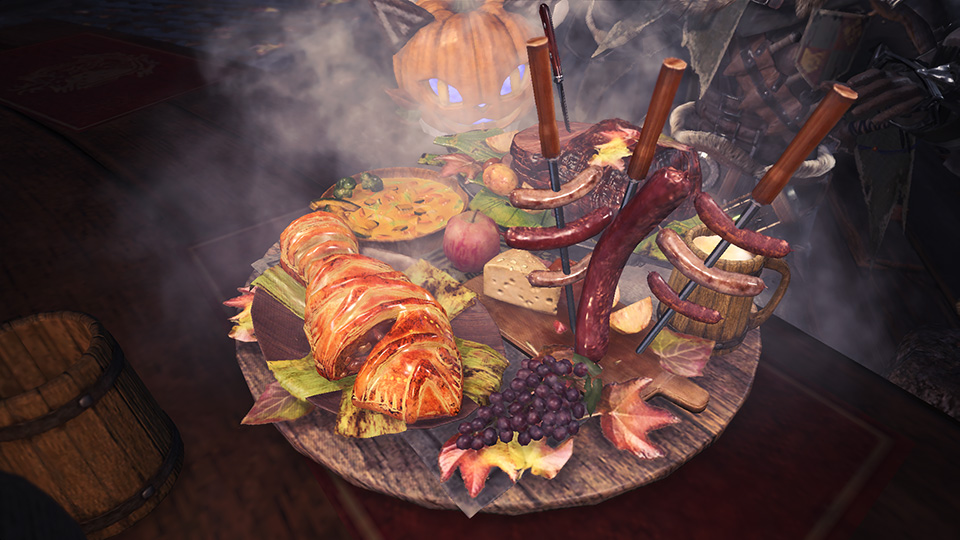 The Gathering Hub Canteen will also feature a special "Autumn Harvest Platter"! All the ingredients are guaranteed "fresh," so don't miss out on this meal before you head out on quests!
New Outfits for the Handler and Poogie, Too!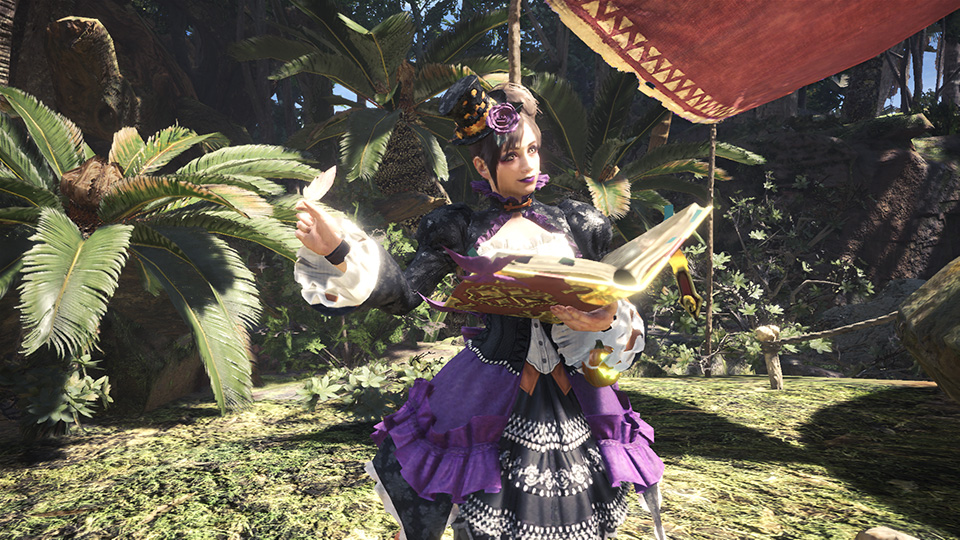 The Handler: "Mischievous Dress"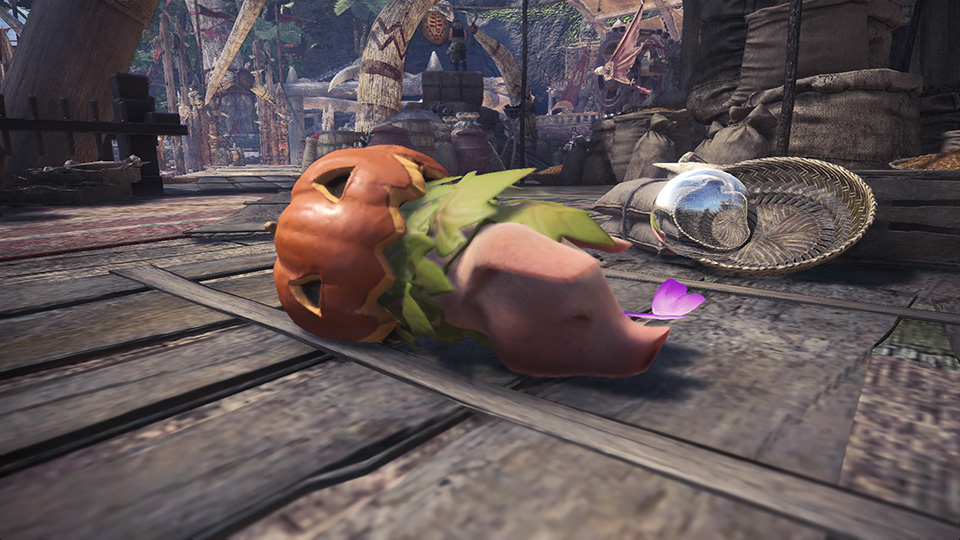 Poogie: "Pumpkin's Revenge"
The Handler's mischievous side is on full display with this seasonal outfit!
Don't leave your Poogie out of the seasonal fun of the Autumn Harvest Fest!
Note: The Handler's seasonal outfit is only available for the duration of the event. You can change it back to other outfits by talking to the Housekeeper and selecting "Change the Handler's Outfit". Your Poogie's special clothing will still be available after the seasonal event is over!
Celebrate the season with hunters worldwide at the Autumn Harvest Fest!