Fortnite Challenges: Week 8 Challenges, Battle Pass Challenges, Snowfall Challenges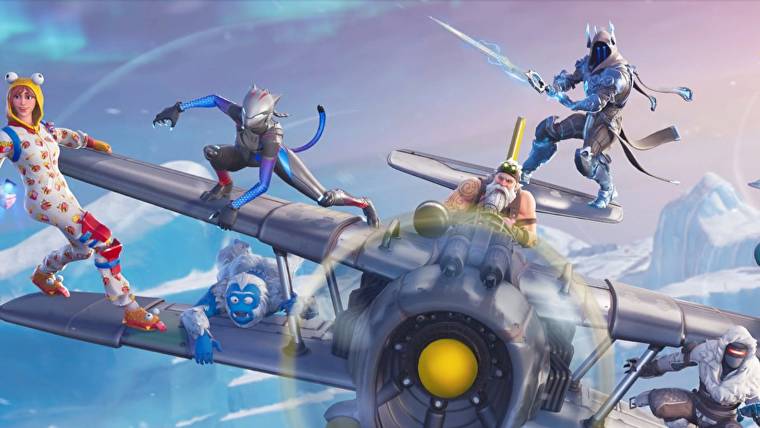 We're now up to week eight of Fortnite's seventh season and while the map has seen a drastic change lately, the challenges that come with week 8 seem a bit more tame in comparison. Still, there's plenty of challenges to complete, including another hidden Battle Star somewhere on the map. So in order to grab all the emotes, costumes, and everything else for the latest Battle Pass, this guide hub will have all the details for both free and Battle Pass challenges, as well as any extra challenges, such as the Ice Storm event, introduced as the season goes on.
Fortnite weekly challenges guide hub
With the game being the global sensation that it is, there's a lot to learn about not only getting that all-important "Victory Royale", but also the changes to the map as the seasons progress, and the challenges you can seek to complete. Head over to our main Fortnite guide hub for every single thing you need to get started.
Fortnite Season 7 Challenges
Season 7 began late last year on 6th December 2018. The theme is a holiday themed one, and saw a few big changes. Flush Factory and Greasy Grove are now gone, along with the addition of ziplines, new icy terrain, and a new vehicle that has been dominating the meta in the form of the X-4 Stormwing (Psst, there's more on that in our Fortnite vehicles guide). It also introduced some free challenges in the form of the 14 Days Of Fortnite challenges and the current Ice Storm event, as well as some new cosmetic items such as wraps for weapons.
Below are all the current challenges in Fortnite Season 7. Some of these challenges require you to find things dotted across the map, so these will have links within the tables. Click on the link to be taken through to the guide page which will tell you how to find the object/location in question and what you need to do once you've found them. We will be updating this as the coming days go by with more specific guides, so do check back soon.
Week 8
Please note that the challenges listed here are based on leaks and that they will be updated throughout the day once the official update drops.
Week 7
Week 6
Week 5
Week 4
Week 3
Week 2
Week 1
Miscellaneous Challenges
Season 7 Snowfall Challenges
Ice Storm event
Archived
14 Days of Fortnite Challenges (Offline as of 15th January)
What you get with the Season 7 Battle Pass
Fortnite's Battle Royale mode is free to play, with a fair number of challenges being free to complete, giving you a taste of what the Battle Pass challenges have to offer. The Battle Pass for each season is currently priced at 950 V-Bucks. This likely means forking out £7.99, €9.99, and $9.99 respectively to purchase 1000 V-Bucks, leaving you with 50 V-Bucks left over, but they usually come with a few unlocks to begin with.
You'll also unlock more stuff as you play matches, either through levels or completing each of the individual challenges. Challenges are unlocked as the season progresses, though once the season is over, the challenges are gone forever, so you'll need to get in quick. You can also throw some more money (150 V-Bucks per Tier level) to unlock the next rank, but it's not advisable to do so unless there is a particular skin coming up that you really, really, really want.
Tips for Fortnite challenges
A lot of the challenges in Fortnite revolve around getting kills and damage with certain weapons, possibly in certain locations, or just merely landing in locations on the map. So before we go, here are a couple of tips aimed to help you in completing those challenges.
For the various weapon challenges, your best bet is to compete in a Limited Time Mode (LTM) that features respawns. Since all damage is cumulative during a match, even those that say "in a Single Match", you should be able to at least have a good attempt to complete that challenge.
In challenges that require eliminations in specific locations, some areas are better than others. Tilted Towers and Pleasant Park are very popular locations to drop into, so if you're looking for a less popular area to descend into, try for the second area.
Make sure that you have completed matches rather than quitting as soon as you finish you have done your task. Some challenges require the match to be finished before it will count.
This concludes our weekly challenges guide, but there's plenty more in our collection of guides for Fortnite. For more on the weapons themselves, check out our Fortnite weapons guide, the locations to find them can be found in our Fortnite locations, while the list of the vehicles in the game are in our Fortnite vehicles guide.