Citadel: Forged With Fire Hotfix – 03/08/2019 – Language Options Fix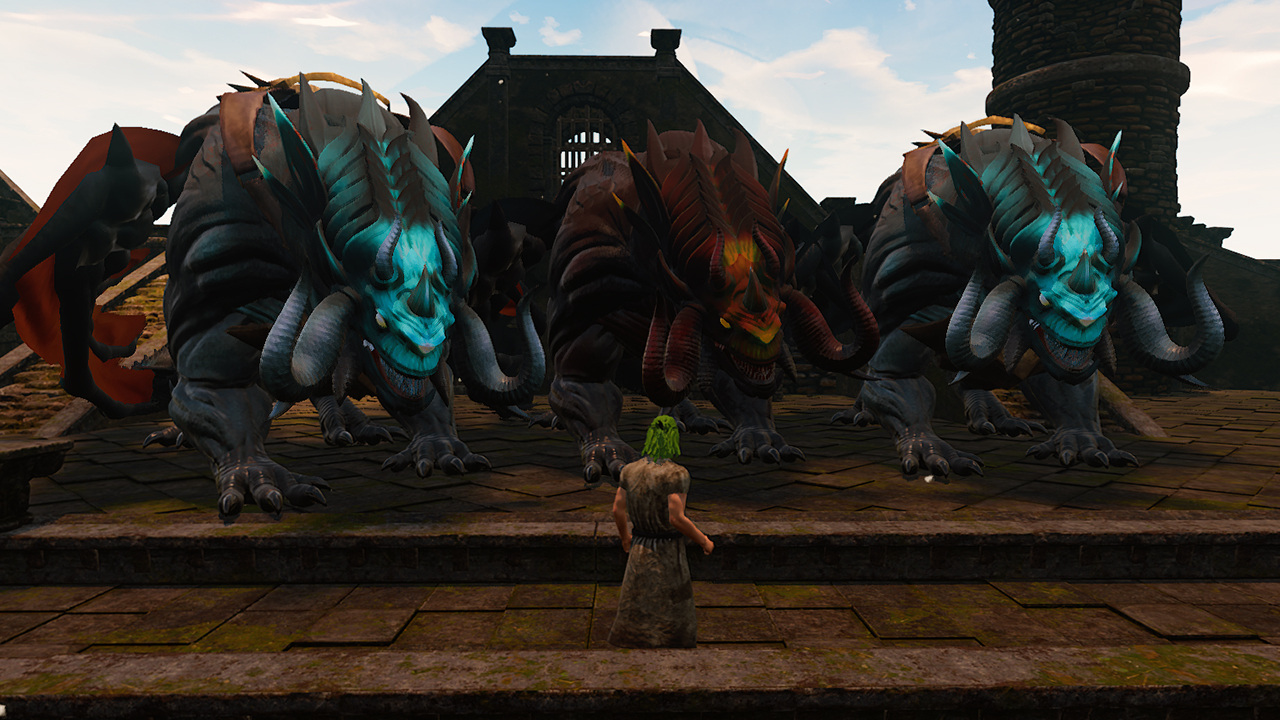 Hello Wizards!
We've launched a small patch to address an issue introduced with Wednesday's patch. We'll be reverting all language options back to English.
It's that time of the week again… We're back at it with a patch today and we have many, many changes to share.Today's patch includes a number of changes 
specifically
 requested by the community as well as fixes to some lingering bugs. Most notably, we've made changes to tame times, modified boss caves enemy perceptions for a better gameplay experience and have potentially fixed that pesky structure decay bug! We also have included a potential fix for tamed creatures falling through floors.
With today's update, you can also expect the addition of Vivox spatial VOIP. We hope you take a moment to test it out and provide us with your feedback!
As always, please let the servers restart in order to get today's update. While you wait feel free to check out the rest of our patch notes below:
Patch Notes
Fixed HP for marble large curved acute roof
Adjusted some rocks and terrain to prevent griefing
Many players have noted that our NPC run and flight speeds have been inconsistent. In conjunction with putting them in a new, more sensible hierarchy, we have buffed all flight trinket fly speeds to make them more viable options. The only exceptions are Daredevil's broomstick and flight of the architect, which have the same speeds as before
Community feedback has suggested that maintaining tames is a bit more tedious than we intended. To help reduce this grind, we have significantly buffed the tame time rewards for all raw meats, plus egg and milk. We have also slightly increased the average drop quantity of raw meats on NPCs.
Buffed several loot chests rewards slightly in various non-cave and non-NPC camp parts of the world
Players have found collision gaps in some of the rounded floor and roof pieces. These have been given tighter collision extents
Tweaked boss NPC perception ranges to provide a better gameplay experience
Adjusted geyser spell, it now has a 4m radius (was 2m) and lasts 5s instead of 9s. It should provide a better temporary forcefield from melee creatures
Potential fix for tames going through floors
Elixir of amnesia no longer clears your equipped spells
Player no longer dismounts while interacting
AOE spells now respect occlusion and no longer affect interiors of buildings when hit from the outside
Fixed issue with quest window getting stuck if opened and closed quickly
Fixed an issue where a number of creature attacks were not properly affecting other creatures
Fixed an issue where a flying player could wedge the camera inside objects
Fixed issues where the spell extract VFX would not disappear after weapon switching
Dismount prompt now shows proper rebound icon
Key Bindings are now image based
Fixed an issue causing player ragdolls to not work on clients
Fixed issues causing structure data to be sent twice
Added Vivox spatial VOIP
Open mic/push to talk setting added to the audio menu
Creature names are now filtered for offensive text
Fixed lag if quickly switching tabs with a controller
Fixed several server crashes
Inventory sort button should now properly sort items as expected
Fixed a bug where mana potions and health potions were not properly stat tracking for achievements
Fixed a bug that could cause some sliders in the options menu to get reset
Potential fix for structure decay happening on unexpected pieces
Fixed a client crash when selecting plants quickly from a plot
Smoothed out various loading related hitches that can occur when replicated actors come into view
Fixed input related issue during the intro sequence
Removed sway from idle animation to lessen the seasickness effect
Added the ability to see which structure piece a player is focused on
Fixed an issue with the in game audio track abruptly stops and restarts
Idle animation sway is now controlled by the "camera bob" setting, allowing players prone to motion sickness to play with no camera motion whatsoever if toggle