Steel Circus Final Closed Alpha Test Coming August 3rd!

Hello everyone!
Steel Circus will hit Early Access on August, 8th 2019 on Steam and we are happy to announce that the last Closed Alpha Test will be happening this weekend. To be specific, CAT#4 will be conducted from:
Saturday, August 3rd to Monday, August 5th: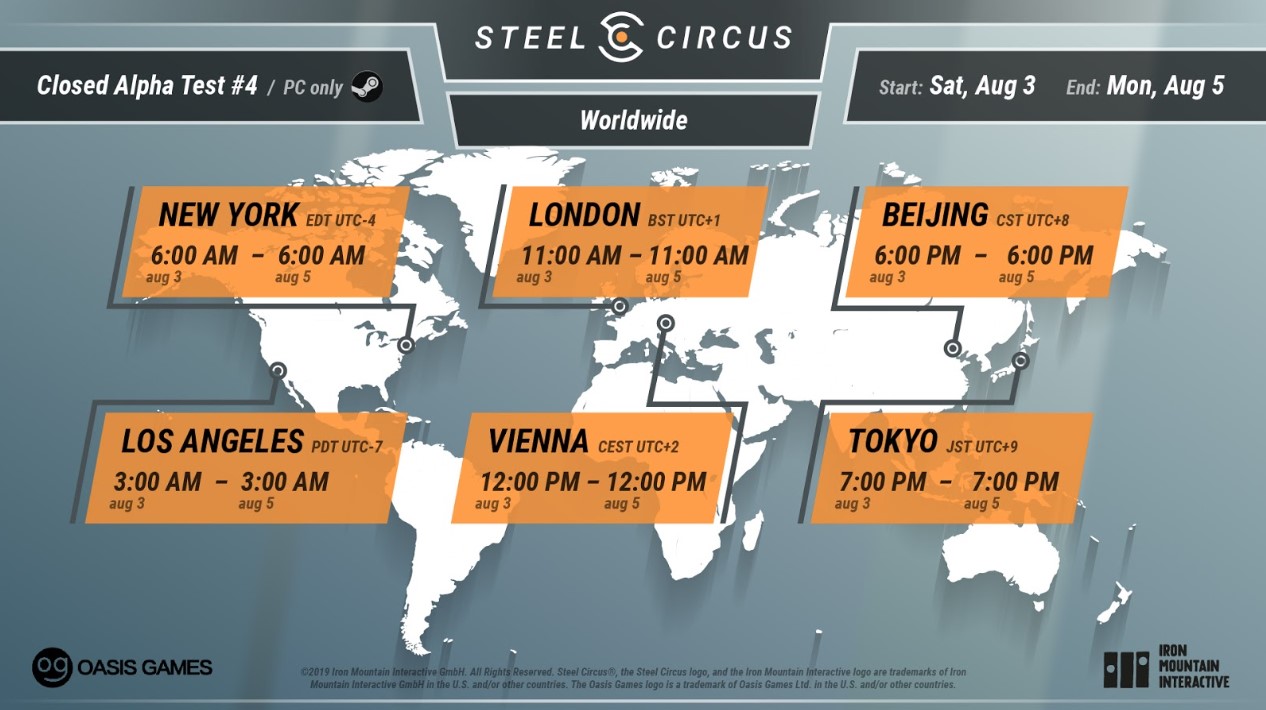 LA: 3rd, 3 am – 5th, 3 am
NY: 3rd, 6 am – 5th, 6 am
London: 3rd, 11 am- 5th, 11 am
Vienna: 3rd, 12 pm- 5th, 12 pm
Beijing: 3rd, 6 pm – 5th, 6 pm
Tokyo: 3rd, 7 pm – 5th, 7 pm
How to test CAT#4?
CAT#4 test will be conducted from the main SteamID, for which you need a new key. Find your new Steam key here:
Grab a key now[gleam.io]
Since we are not going to use the old Closed Alpha Test SteamID anymore, you can uninstall it from your game library. In the future, upcoming community/PTR tests will be conducted from a BETA branch of the main SteamID, which we are going to communicate after Early Access.
What can you expect in CAT#4
As sort of a teaser for Early Access everyone will be granted enough in-game currency to be able to customize your favorite in-game items such as spraytags, emotes, victory poses, and skins during CAT#4. Keep in mind, the database will be wiped along with your progress and equipped items after the test.
New features to test: 
New champion: Acrid
Updated goal cutscenes
Tweaks and balances of Champions
Improved bumper physics
Updated skill floor previews
Camera tweaks
New ball trail
Daily challenges
Rewards
A detailed list of changes will be posted in the announcement channel on Discord prior to the test.
Thanks to the community
We are very thankful for all the support we've received during our closed alpha tests. Besides making new friends and getting to know nice people from all over the world we couldn't have hoped for a better way to improve Steel Circus to this date and in the future. As a sign of gratitude, we are going to send every closed alpha tester a special "Closed Alpha Participation" gift shortly after EA.