Planetside Arena Hitting Steam Early Access September 19, Multi-platform 2020
Hello Soldiers!
Since you last boarded the Bastion with us, we've been iterating through a ton of ideas for PlanetSide Arena. Our team has been heads down, fully committed to delivering the game our community deserves.
PlanetSide Arena is an ambitious project that magnifies all the camaraderie, signature moments, and massive battles PlanetSide is known for. Modes like 300-player Squads, Sunderdome, Outfit Wars and Massive Clash will spark a new, even more intense phase in the battle for Auraxis.
That first phase begins with Early Access on September 19.
We've always thought of PlanetSide as an evolving saga that will eventually escalate beyond Auraxis to interstellar war, and PlanetSide Arena is where it will start. Expanded factions, new weapons and vehicles, battles on distant alien planets (and the space in between) are all part of our vision.
Over the next year we will begin to explore a future that will see an evolution of the empires and introduce new ways to wage all-out planetary warfare, filled with new game modes and classic favorites reimagined, all at a scale that can only be created through a PlanetSide experience.
We have a long, exciting road ahead of us, and we can't wait for you to join us in this epic journey.
JOIN OUR SQUAD
Our initial launch in Early Access will feature the new Squads mode (12 soldiers per Squad) and Teams mode (3 solders per Team) in epic 300-player matches. Three initial character classes (Assault, Engineer, and Medic) and an expansive motor pool including tanks, hovercraft, and jetpacks offer players a variety of strategies and playstyles to choose from in every match, with freer movement mechanics and more explosive combat options than ever before.
The new personal loadout system, a visual overhaul for the game, and character mods that add utility to your weapons and battle suits are just a few of the additional new features we've worked to implement since our first beta sessions.
PlanetSide Arena will continue to add additional modes, vehicles, weapons, classes, events, and maps throughout our time in Early Access – including Massive Clash, an intense base vs base conflict that supports up to 1,000 players. Check out our roadmap below.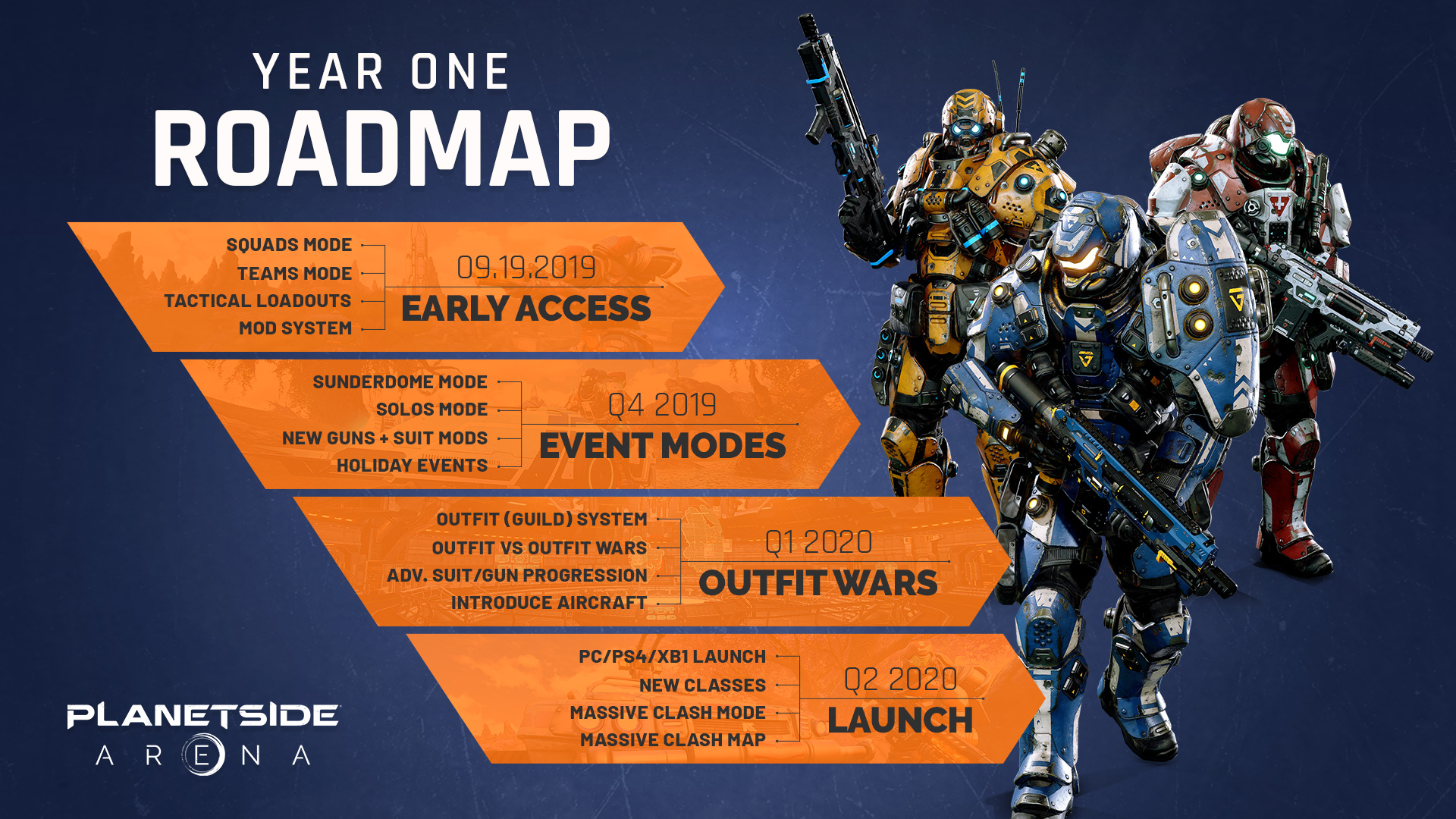 all begins on September 19, and we'll have a lot more to share with you leading up to that date. For more information, check out our FAQ and follow us at any of the links below:
Twitter
Facebook
Instagram
YouTube
Official Forums
Steam
Email Newsletter
Zero hour is approaching. We will see you in the Arena!
-The PlanetSide Arena Dev Team