Teamfight Tactics (Tft) 9.20 Patch Notes – Guardian & Gunslinger Buffs, Assassin & Knight Nerfs!


We're taking a look at the TFT patch notes for the 9.20 update that are scheduled to be released on Wednesday, October 9, 2019! These changes are coming off the recent patch that added the new Kaisa champion to the game. It looks like Riot isn't too happy with where she's at currently because according to the notes she's going to be receiving a buff. Deathblade, the new 2x B.F. Sword item, is also looking to get some love. Here's a look at the PBE changes so far, keep in mind that they aren't guaranteed:
Kai'Sa

Bonus attack speed increased from 30/60/90% to 50/75/100%
Shield increased from 300/600/900 to 400/700/1000

Lucian

Ability second attack damage increased from 100/225/350 to 125/250/375

Wild

Attack speed lowered from 12% to 10%

Guardian

Armor increased from 35 to 45

Knight

6 knight damage block lowered from 65 to 60

Gunslinger

4 gunslinger random attacks increased from 2 to 3
6 gunslinger random attacks increased from 3 to 5

Assassin

3 assassin crit chance lowered from 10% to 5%
6 assassin crit chance lowered from 20% to 15%
TFT PATCH 9.20 TENTATIVE CHANGES
The official patch notes aren't available yet, but once they are we'll be updating this post! For now, check out the tentative changes that were released by Mort on Twitter.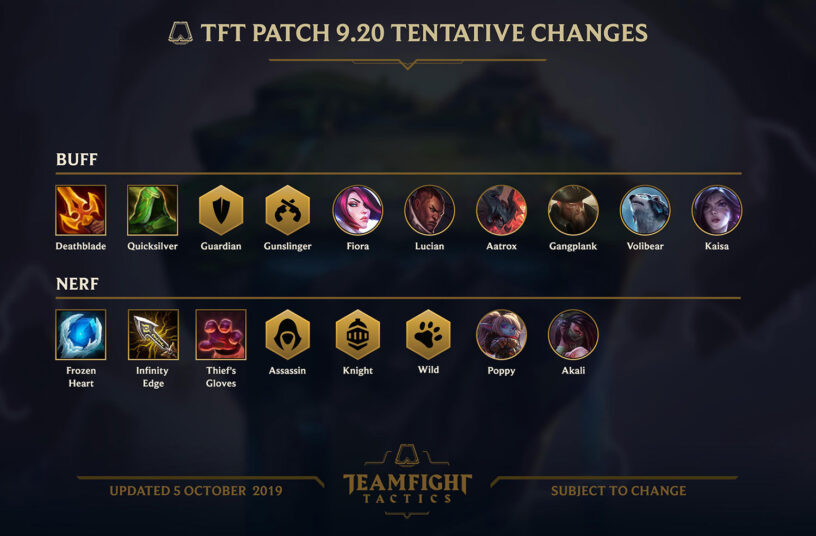 Buffs
Deathblade
Quicksilver
Guardian
Gunslinger
Fiora
Lucian
Aatrox
Gangplank
Volibear
Kaisa
Nerfs
Frozen Heart
Infinity Edge
Thief's Gloves
Assassin
Knight
Wild
Poppy
Akali