Halloween

2019

Upcoming Events

Fallout 76 Prepares To Get In To The Halloween Spirit With The Mischief Night Event
Halloween Event See Post Here Link

SPREAD SOME MAYHEM WITH MISCHIEF NIGHT!
We're entering that eerie time of year when the nights are growing longer, providing the perfect cover for tricks, treats, and a little costumed mayhem during our upcoming Mischief Night Seasonal Event! Mischief Night will be available for one week, starting at 12:00 p.m. EDT on October 29 until 12:00 p.m. EDT on November 5. Make sure you're ready to join in the fun by catching the event details below.

Dungeons and Dragons Online's Night Revels Halloween event returns
Halloween Event See Post Here Link

If you feel a chill in the air and hear a slightly unnerving howl in the wind, you probably should close your window. Or you're in the throes of another MMO Halloween event! Dungeons and Dragons Online has officially kicked off its annual Night Revels event, which invites players to a spooky graveyard for some Halloween fun. Some buggy Halloween fun, anyway.
Blade & Ghoul Rises Again on October 16

Halloween Event See Post Here Link
A ghoulish event comes to the Earthen Realm—join us for some frightening fun!
Blade & Ghoul is just around the corner! It's the time of the year when ghoulish horrors come out to creep around the Earthen Realm, which means there's many opportunities to defeat these nightmarish enemies for some devilishly good rewards!
Candycloud Park
Event Duration: October 16 – November 13
Redemption Period: October 16 – December 11


Possibly Kooky, Rather Creepy, and Definitely Spooky: Nights of the Dead 2019 are here!
Halloween Event See Post Here Link
It's time for things to get super spooky in EverQuest II as the Nights of the Dead arrive once more; if you can't celebrate the macabre all through October, why even bother? This year's even runs until November 1st and offers players a brand-new quest for tracking down and defeating Thieving Harvey. There are also new collections added to the Pumpkin Bomb for those who don't feel the need for a new quest but do want that rush of novelty.
From Tuesday, October 8 at 12:01 AM PT until Friday, November 1, 2019 at 11:59 PM PT Nights of the Dead is here to remind you that not every ghost, goblin or ghoul is out for blood.
Nights of the Dead once again brings goblins and ghoulies out from the shadows. Those inclined to celebrate the holiday through crafting will find a new book of recipes full of new house items being sold by official event merchants.


Guild Wars 2 Halloween 2019 is Getting Closer
Look, folks, as far as I'm concerned, Halloween season started September 1st. My porch pumpkins went up the instant August ended. So figure that I'm not mad at all that so many MMOs are rolling out their Halloween events or at least teases for their events sooner and sooner every year. And one of those is Guild Wars 2, which today confirmed the community hunch that the Shadow of the Mad King will return on October 15th.
From October 15 to November 5 Halloween Event See Post Here Link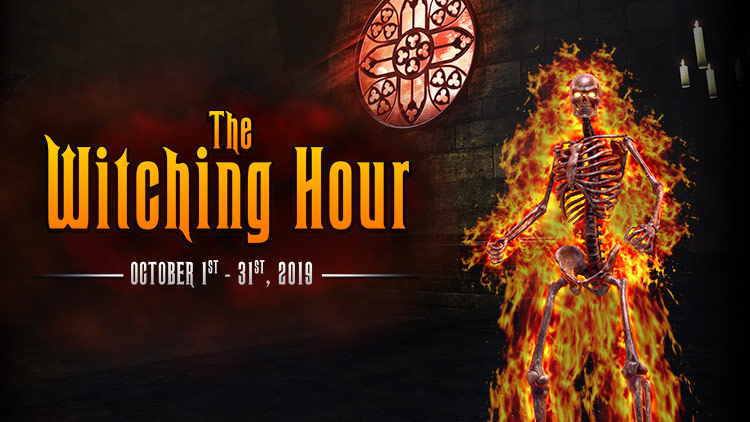 THE WITCHING HOUR 2019
Halloween Event See Post Here Link
All hell has broken loose in the streets of Gotham City and inside The Midnight Masquerade Nightclub! Go to the East End safehouse in Gotham City and speak to the Phantom Stranger (Heroes) or The Tap Room in Burnley and speak to Tala (Villains) to receive further instructions. Alternatively, you can now use the Warp Menu to head directly to the Open World Content by selecting The Witching Hour: Phantom Stranger (Hero) or The Witching Hour: Tala (Villain). To queue for "The Midnight Masquerade," go into your On Duty UI and look under the Events Tab.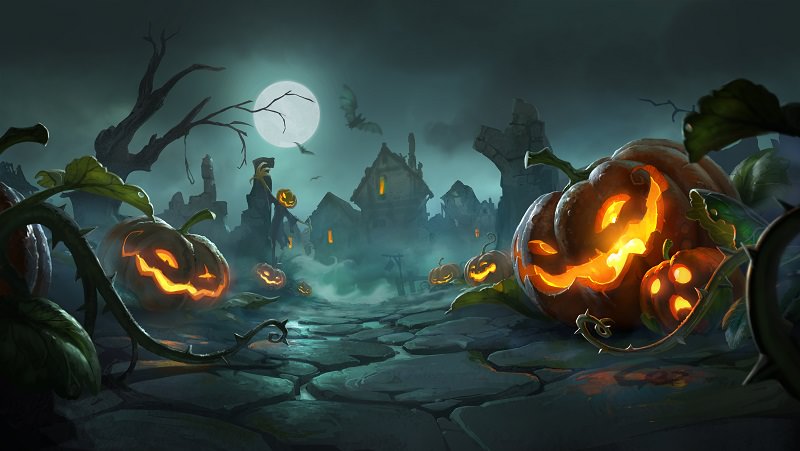 Albion Online's Harvest Challenge Is Back
Halloween Event See Post Here Link
Take the Harvest Challenge
Fall has come to the world of Albion – and the Harvest Challenge is back! For the entire month of October, earn Challenge Points to collect limited-time rewards. This time around, on top of your very own Spectral Bat mount, you can get an all-new avatar border and Halloween-themed costume items: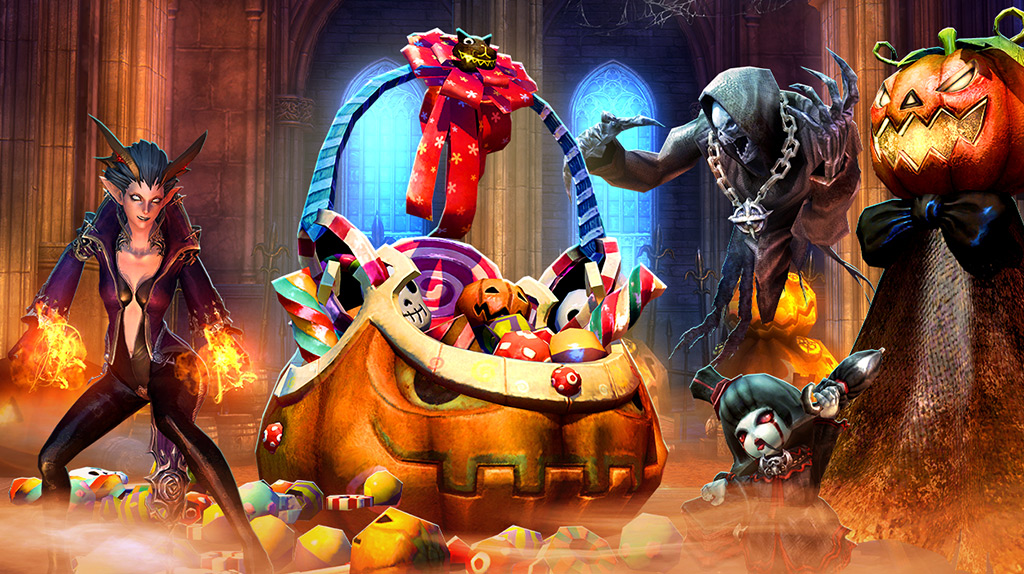 Tera
Halloween Event See Post Here Link
Halloween is just around the corner, and even though we're starting things off a bit early, it's time to start thinking "candy" and "costumes."
To celebrate, the Harvest Festival Hall event returns, starting on Tuesday, October 1 and ends on Thursday, November 5.
Look for the witch Serena at the Eldritch Academy (near Pora Elinu) to participate. Once you're inside, use the Halloween Cannons to repel waves of monsters intent on stealing every last bit of candy they can get their grubby paws on.
Serena rewards you with Halloween Candy for your efforts, and you can trade your Halloween Candy for mounts, pets, costumes, and more.


Shroud of the Avatar
Shroud of the Avatar's Release 70 brings Halloween themed fun on September 26  See Post Here Link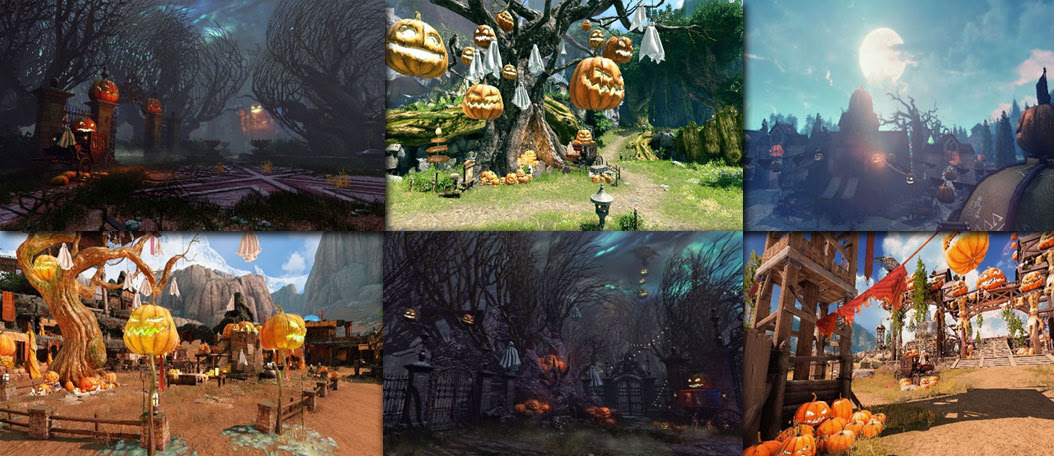 Astellia
Spooktacular Seasonal Events! See Post Here Link
Astellia is starting off the festivities with a bang this year! Beginning in October and running through December, players will be able to participate in awesome in-game seasonal themed events. Featuring new quests, rewards, costumes and more.
Don't miss out, be sure to stay up to date with the latest information on our social media (Facebook, Twitter).


City Of Heroes
Halloween Event See Post Here Link
Trick-or-treating has been enabled in all city zones.
Dr. Kane's Mansion is available in the Holiday tab of the LFG window.
Eternal night has fallen and the Deadly Apocalypse is upon us!
The Halloween vendors (Malkiel in Atlas Park, Annah in Croatoa, Granny Beldam in Nerva Archipelago, Acantha in Imperial City) have stocked up with goodies to trade for your salvage.