Citadel: Forged With Fire Offers A Rough Plan For Post-launch Updates And Goes Free-to-play This Weekend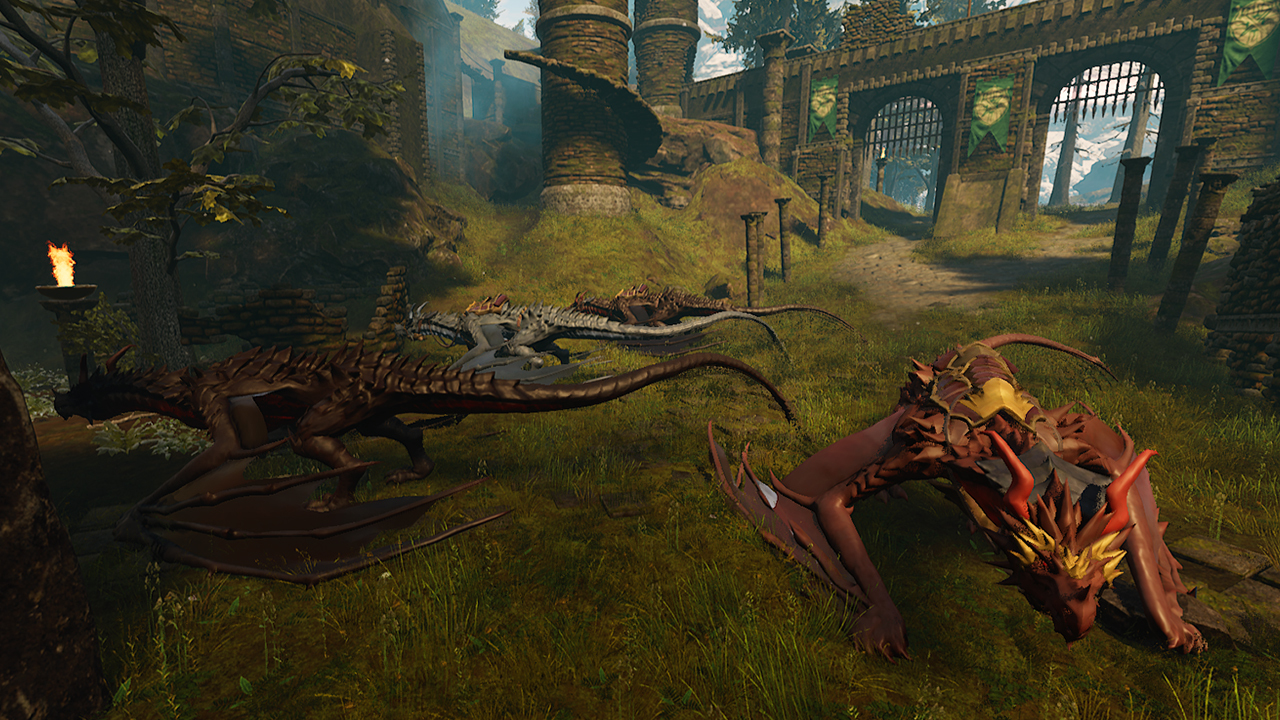 Hello Wizards and Conjurers!
In anticipation of our full launch coming on November 1st (less than 2 weeks away now!!), we're looking to release a big patch today to address some last minute fine-tuning and tweaks needed as well as the addition of some community requested features to the game.
Some things coming today that are especially noteworthy are the frequently requested addition of moving mouths when using VoIP, a new mini-boss, new server types and dozens of other miscellaneous requests.
As some may already know, we spent the last 2 days performing server wipes and server maintenance to get ready for our 1.0 launch. For all those who are asking, this means that there will be no server wipes happening on November 1st.
Apart from that, we're also very happy to announce that starting tomorrow Citadel: Forged with Fire will be taking part in a Steam Free Weekend Event!
As usual, please take a moment to read the notes below as you wait for our servers to update and see what's been added to the game with this update:
New Items
Player mouths now move when VoIP is used
Added mastery pools for better high-level regeneration
Added new armor crafting options
Added new weapon crafting options
Added new phoenix mini-boss
Gameplay
More appropriate orc loot rewards
Increased harvest rate for marble, decreasing average marble node quantity
Increased marble drop quantities in rift treasure
Added new top-tier food buff: sublime indulgence
Adjustments made to eagle and phoenix swoop attack
Adjustments made to quest requirements to make them less tedious overall
Adjustments made to leech modifiers
Added more appropriate leveling curves for tamed creatures: weaker creatures level faster, stronger creatures level slower
Added more appropriate HP and damage scaling for tamed creatures
Made several tweaks to Orcus to improve combat
Dropped leather requirement for saddle by 50%
Increased XP rewards from boss creatures
General fixes made for griefable terrain and rocks
Roughly doubled rune rewards in medium and large crystals
Adjustments made to roots of wrath spell to prevent multiple phantom hits
Adjusted golem loot drops
Increased sickly heart drops in tundra abominations
General improvements made to boss creatures
Made faery dust a guaranteed drop on Phoenix Spirit sprites
Better alignment of creature ranged attacks and perception radii
Firepits now decay in 2 hours if abandoned
Fixed PvP spell debuffs
Aesthetics
Regenerated some foliage for better performance and resource distribution
Updated regional title card level ranges for creatures
Adjusted color of tundra rocks
Fixed attenuation of pounce spell
Better bloodlust VFX positioning for 1P combat
Fixed golem death animation
Technical
Added logs for raiding to the server so that owners can tell who's been attacking who
Added whitelisting support for streamers – use the "admin_whitelistadd" and "admin_whitelistremove" commands to add steam ids
Added Steam join in progress for dedicated server games
Increased server player counts from 40 to 50
Fixed repair bench causing item cards to disappear and reappear
Added RCON command "whoisonline"
Added the ability to change a passworded server's password at runtime via the "setpassword" command. Available with RCON as well
Fixed a crash that could occur when taking over 100 items from a lootbag at once
Improved lootbag performance opening bags with many items
Improved particle and lighting performance
Lights are better managed via occlusion so situations with torches not illuminating are reduced
Doubled the radius of all player created lights
Optimized performance on magic structures
Doubled structure render speeds
Optimized NPC inventory for better server performance
Optimized idle NPCs for better server performance
Optimized reformation stone logic for better server performance
Dragon fire breath properly consumes mana
Improved server physics performance
Fixed crash on listen servers
Fixed occasional single player crash in dungeons
Added the ability to reset bindings
Fixed occasional bugs that could happen with player level when logging back into the game
Fixed an issue with the VOIP slider not persisting after relog
Fixed a server crash that occurs when dismounting
Fixed an issue on listen servers where the first quest progress is not properly tracked
Fixed taming interaction when using other languages
Merged notifications of resource pickups when running multipliers
Fixed overlapping exp text when running multipliers
Improved single player world configuration settings for gamepad
Fixed an issue where the player would be invisible after respawning many times
Added the ability for administrators to toggle the weather via the command "togglerain"
Fixed issues where on listen servers, creatures had very far sight range
Fixed an issue where context menus in the inventory could sometimes spill out of the window
Fixed an issue where the VFX on players would not go away after the relevant buff expired
Added new server types, their configurations are as follows:
– PVP – veryfast-reset: 5x exp 5x gather, server reset every 90 days
– PVP – fast-reset: 3x exp 3x gather, server reset every 90 days
– PVP – fast: 3x exp 3x gather
– PVP – very fast: 5x exp 5x gather
– PVE – fast: 3x exp 3x gather
– PVE – veryfast: 5x exp 5x gather
– PVE – freebuild: unlimited resources, free flying, no weight restrictions
– PVE – freebuild-reset: unlimited resources, free flying, no weight restrictions, reset every 90 days