Greetings Astellians,
Today we're excited to announce the launch event for the opening of Avalon on November 19th, 2019. Before we get into the details of the event, we'll take a quick look into what Avalon is, and what you can expect to find awaiting within. Avalon is an epic Tri-Faction player vs player battleground that persists over the course of an entire week. Players compete to maintain control over and earn points from objectives, or killing opposing faction members and NPC's. For more details, check out our detailed breakdown of Avalon »Here«.
Event Details
The opening week of Avalon will be focused on hosting the launch event. Effectively serving as a pre-season to introduce players and granting participants a chance to obtain a variety of unique rewards that can only be obtained during this event. Ranging from in-game titles and zender to special prizes like the Blue Fog Tukana Mount, which is first being introduced during this Avalon event.​
​
It is worth noting, variants of the Tukana mount will be added at a later date. Beforehand, we'd like to collect insights from our community on ways players could potentially obtain these mounts in the future. Such as earning them via Zender, sale through the cash shop, or possibly future events, we encourage you to share your ideas!​
​
For more information on prizes and how to earn them, check the Event Prizes section below:​
Event Date​
The Avalon launch event begins Tuesday November 19th upon the opening of Avalon (See Schedule Below), and ends on Monday November 25th.​
Avalon Schedule​
As previously mentioned, Avalon is a week long semi-persistent battleground. Beginning on each Tuesday, and ending on the following Monday. Below you'll find the schedule for the North American and European start and end times.​
Please Note: These times are for both the event and the normal schedule for Avalon.
North America​
Start: Tuesdays at 9:00pm PDT | 12:00am EDT | 06:00 CET​
End: Mondays at 10:00pm PDT | 1:00am EDT | 07:00 CET
Europe​
Start: Tuesdays at 23:00 CET | 2:00pm PDT​
End: Mondays at 23:00 CET | 2:00pm PDT​
Event Prizes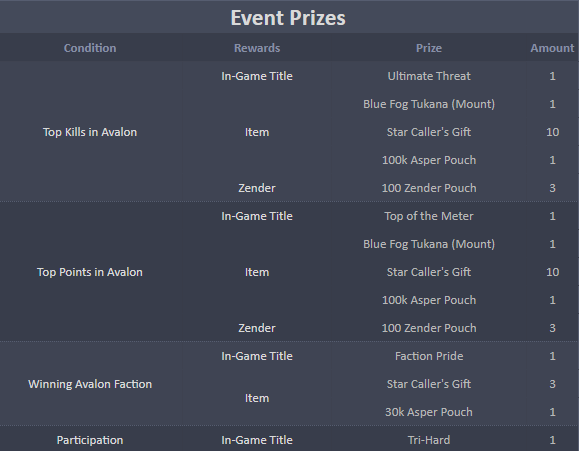 SOURCE: OFFICIAL SITE (1, 2, 3)