Fortnite 11.21 Patch Notes – Detailed Unofficial Update Information

These are the unofficial Fortnite 11.21 Patch Notes! Epic hasn't been compiling detailed notes like they used to, so we're putting together a list of everything that changed in the new update. We have some bug fix information, and will be posting whatever else has been added to the game. We will replace these with the official patch notes if they are posted.
Patch Release Date & Time
The Fortnite 11.21 Patch downtime is scheduled for December 4th, 2019 at 4 AM ET (0900 UTC).
UNOFFICIAL PATCH NOTES
Coming soon… Any new Leaked cosmetics will be found on this page.
Leaked Weapons
These have been leaked for quite a while, and we're expecting them in any one of these future patches.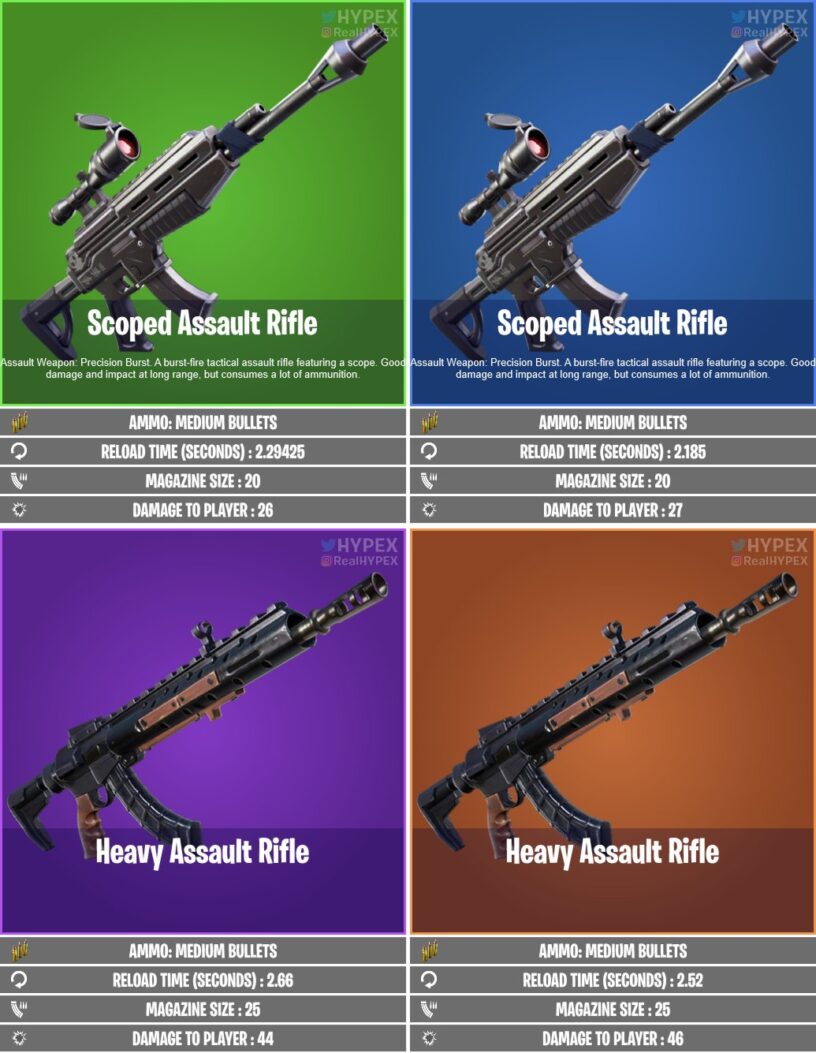 It looks like it's quite possible we're getting the Scoped Assault Rifle back in the game and a new Heavy Assault Rifle in a future update (Source).
FORTNITE 11.21 PATCH BUG FIXES
Here are the expected bug fixes for the 11.21 patch. These were taken from the Trello that display all of the stuff that Epic is working on in terms of bugs.
General
The Show FPS option is missing from the settings in Battle Royale/Creative.
Battle Royale
The refund token count is displaying incorrectly.
Creative
We are investigating reports of controller input delay for the following actions in Creative:

Reloading
Editing
Placing builds
Switching modes

Players will encounter billboards with default texture shown if they close the phone tool immediately after pasting the billboard. When players copy and paste the billboard, they can also see a brief flicker of the default texture as well.
Mobile
We're aware of an increase of low-detailed buildings on Nintendo Switch and will have this resolved in the next release.

ORTNITE LEAKED SKINS & COSMETICS LIST (PATCH 11.20)
We've got a full list of the currently unreleased skins that have been leaked but not yet put in the shop yet!
If you're looking for a roundup of all of the current Fortnite Leaked Skins then we have them all below! Fortnite Cosmetic Leaks can come out in multiple different ways. Most of the time they are found via datamines, but sometimes platforms accidentally reveal them early and promotional images will sometimes hit the web.
This post will be updated whenever more are datamined or revealed. We'll also be shifting the released ones out once they hit the shop.
The majority of the skins below will be added to the store eventually. However, there can be skins that could be available via other methods like the purchase of Save the World, or in other promotional ways. Most skins are datamined and then released within a week or two, but others have been sitting in the files for a while and we still aren't clear how they will be released.