Valinir Play Valnir Rok Trailer Update #73 – Xmas, Archery, Gravity and Bugfixes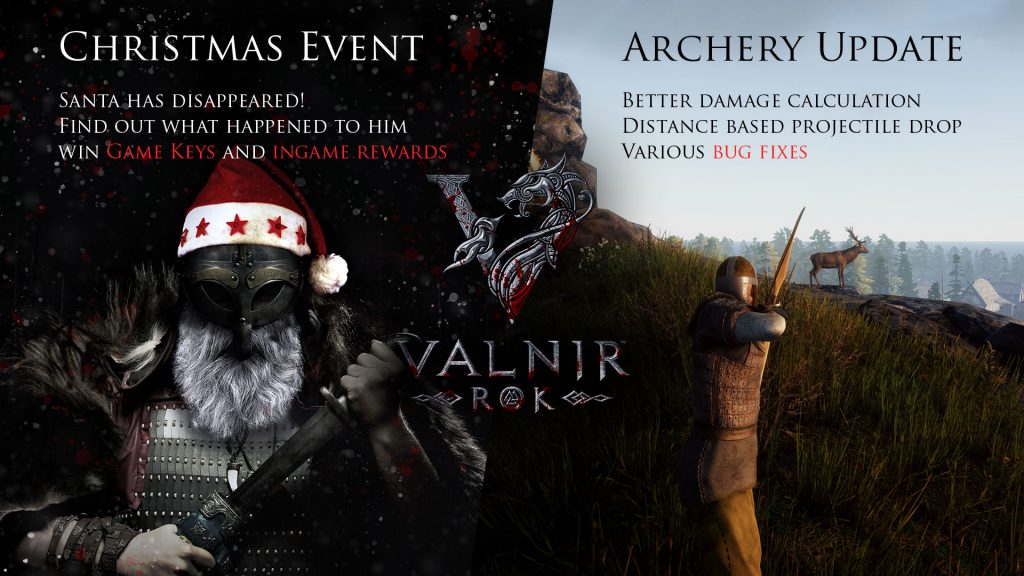 The long wait comes to an end. The next update is ready:
Santa Lottery
Looking for a nice and free Christmas present?
You want to give a free Valnir Rok Steam key to a friend?
1. Upload a screenshot of santa in the Drekiberg labyrinth
2. Add the #valnirsanta tag
3. Tag your friend
We will then check if you own the game and then send your friend a Steam key.
Please note. This is limited to max. 2.000 keys. Only the first 2.000 will get a key.
FIXES
Fixed bug where healthbar shows full health despite being damaged
Animals, creatures and monsters sometimes did not show the correct health bar status when they got out of view and back into view and also for some other reasons.
Fixed bug where ranged weapons only removed but didn't need projectiles.
Ranged weapons always need projectiles now. You now can't shoot a bow without an arrow.
Fixed major bug that caused projectiles to not be respected in damage calculation. In some cases the projectile was not taken into account in the damage calculation.
Fixed minor bug where fall damage is sometimes applied seemingly randomly.
In certain cases you could be damaged when running down a hill or jumping off a horse because fall damage was calculated wrong.
Fixed bug in the crafting process of the updated simple shield.
Simple shield crafting recipe was broken and lead to a problem that some
Fixed multiple instances of misaligned world terrain / walls.
Lots of problems in the world with walls and unaligned colliders where fixed.
IMPROVEMENTS
Balancing
Also we have done some balancing stuff concerning animals and PVE Combat.
Projectile Gravity
Added gravity to projectiles. This is especially important for aiming and feels way more natural in ranged combat.
Please also check out Faith + Honor: Barbarossa. Another game we are currently working on
Youtube Video
Facebook
Twitter