Fortnite 11.40 Patch Notes – Detailed Unofficial Update Information


These are the unofficial Fortnite 11.40 Patch Notes! Epic hasn't been compiling detailed notes for every patch like they used to, so we're putting together a list of everything that changed in the new update. We have bug fix information, and will be posting whatever else has been added to the game. We will add the official patch notes if they are posted.
Patch Release Date & Time
The Fortnite 11.40 Patch hasn't officially been announced yet, but we expect it either the week of January 6th or January 13th. It will likely be added on either of those Wednesdays, so for an exact date I would think January 8th or 15th are most likely. Epic was out of office over the holidays, so it's been a while since we've had a patch.
FORTNITE 11.40 PATCH BUG FIXES
Here are the expected bug fixes for the 11.40 patch. These were taken from the Trello that display all of the stuff that Epic is working on in terms of bugs.
General Issues
Players on consoles may get stuck and unable to progress through gifting process if they do not have 2-Factor Authentication.
Battle Royale
We're aware of an issue involving players' Quick Bar being inadvertently defaulted off on consoles and PC.
Players' Star Wars Legacy entries have disappeared.
After direction is remapped from a non-"F" key to the "F" key, the key may not allow for proper movement.
Editing quickly can cause players to remain in Edit mode, even if they're not editing anything.
Falling into a Hideout (haybale, dumpster, port-a-potty) while holding a Sniper Rifle may cause the crosshairs to disappear.
UNOFFICIAL PATCH NOTES
Here's where we will be detailing all of the things that have been added to the game that weren't covered by Epic. If you're looking for leaked cosmetics, we will have a full look at them right here.
Leaked Weapons
These have been leaked for quite a while, so it's unclear if they will ever be added to the game.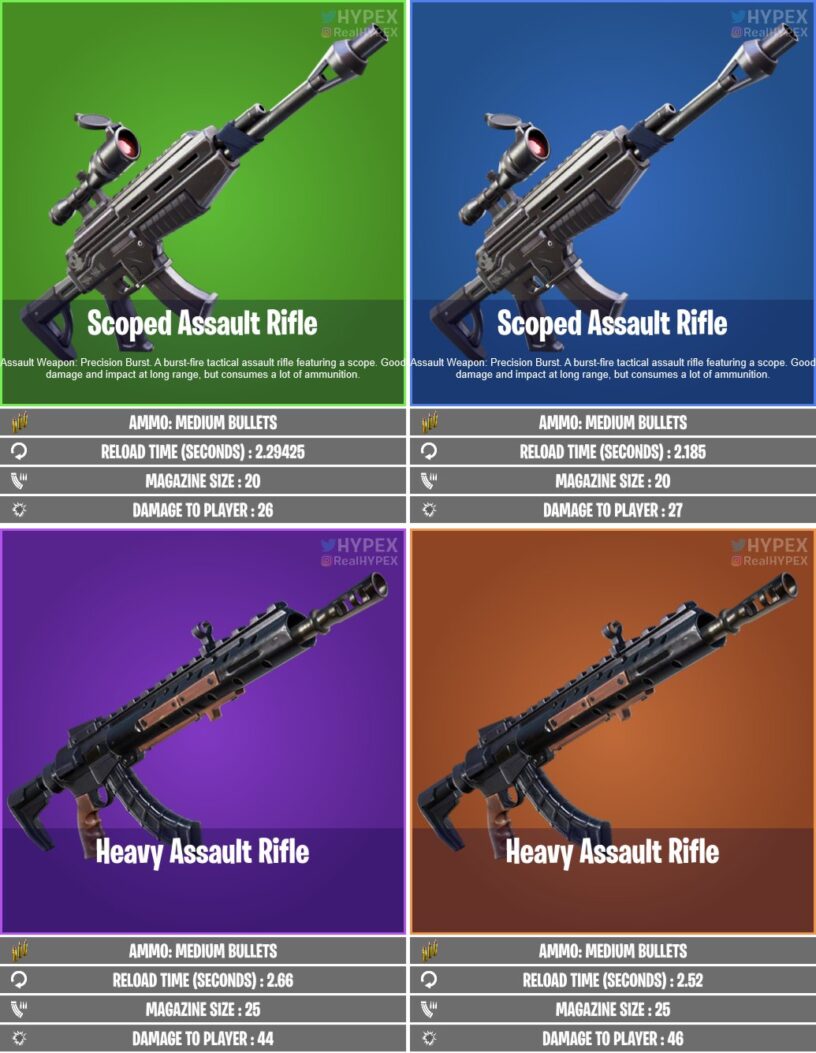 It looks like sometime in the future we're getting the Scoped Assault Rifle back in the game and a new Heavy Assault Rifle (Source).