Blade & Soul's 4th Anniversary Festival Begins January 22, 2020

Get ready for the festivities by registering for a FREE 4th Anniversary Celebration Pack!
Let's blow up the balloons and prepare to celebrate Blade & Soul's 4th Anniversary! This year the festivities begin on January 22 and, as part of our anniversary event, we're putting together a variety of fun activities in celebration of not only the last 4 years but to also get you ready for what's to come in the new year. We've even spruced up Mushin's Tower in honor of this special anniversary milestone!
4th Anniversary Registration Event
To get you ready for the party we're about to throw, we're giving players a FREE 4th Anniversary Celebration Pack. All you have to do is register your NCSOFT account before January 20.
If your account was created before 10:00 a.m. PST today, January 13, and has at least one level 10 character on it, click here to head to the update page to register up for your 4th Anniversary Pack which includes the Flowerfall costume set! On January 22, you can claim these items for any character on your account.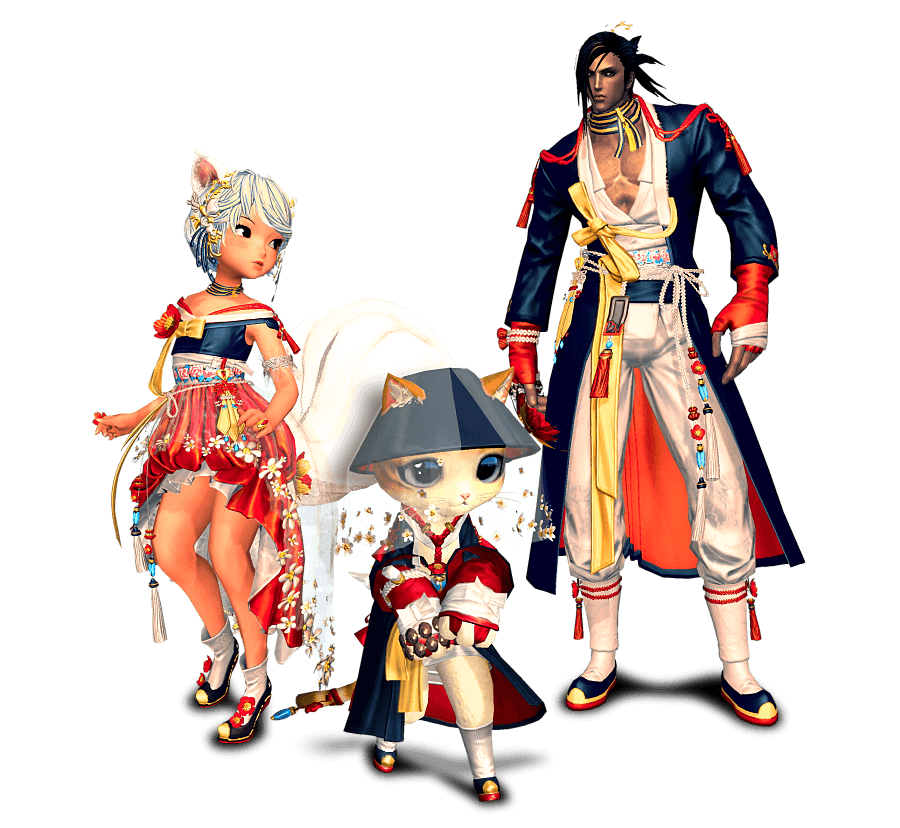 4th Anniversary Sweepstakes
Would you like to get your hands on a pair of exclusive, limited-edition Blade & Soul 4th Anniversary sneakers? We have 6 different sweepstakes opportunities where you can win a pair of these awesome sneakers which feature Dasari Red elements against the Blackram Black base and arrive in a custom Hexagonal display case with a special dye-sublimated shoe bag and information card. We'll also be choosing runner-up winners who will receive a Corsair Starter bundle which includes a keyboard, mouse, and headset!
Click here to learn more about how you can enter to win.
4th Anniversary Celebration Livestream
In addition to previewing the events and updates to the game, we'll be hosting special guests, running games, and doing giveaways during our livestream. Tune in on Thursday, January 16 at 11:00 a.m. PST (20:00 CET) at Twitch.tv/bladeandsoul.
Hunter's Refuge
On January 22, the limited-time Hunter's Refuge zone will open, giving you a new experience where you may end up being both the hunter and the prey! Discover new treasures and new dangers once you enter this open-field PvP and PvE zone. Hunter's Refuge will only be open from 8:00 p.m. to 10:00 p.m. server time each day until February 19. You can enter by clicking on the Hunter's Refuge icon at the bottom of your screen when it becomes available. Each entry costs a Hunter's Orb that you'll be able to purchase for 10 gold from the Dragon Express. Learn more about this new hunting zone in our upcoming in-depth preview.
4th Anniversary Events
It wouldn't be an anniversary celebration without some special events! In addition to a special event that will give you a boost towards upgrading your weapons, we'll also have an anniversary event that will give away a special cosmetic gift and the opportunity to earn more rewards. Stay tuned for all the details in our upcoming 4th Anniversary Events Preview!
New 365 Day Premium Membership Costume
The current 365 Day Premium Membership costume will be replaced with a new offering during maintenance on January 22, 2020.
Get the Fable and Fable Familiar costume set 365 Day Premium Membership subscription before January 22 because they will be making their exit, and be replaced with these fine offerings: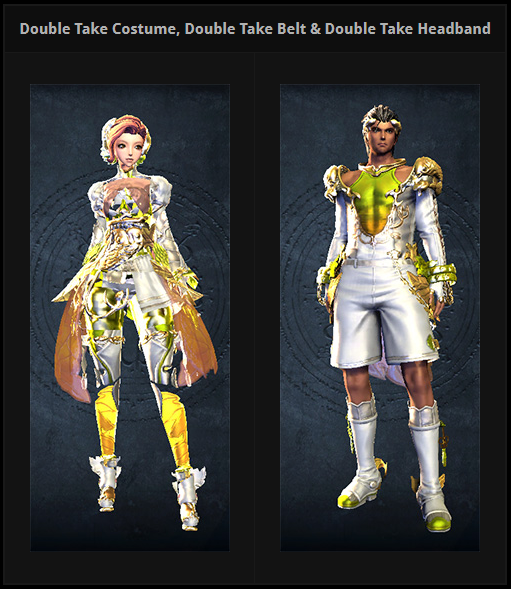 Existing Subscriptions
Players with existing 365 Day Premium Memberships that renew between December 22, 2019 and January 21, 2020 will automatically receive the Double Take costume set.
For those that fall in this renewal grace period, there's no need to purchase a new subscription for the bonus items, and the Double Take costume set will be delivered to your Received Mail after the January 22 maintenance.
New Subscriptions
Any new 365 Day Premium Membership subscriptions made after December 22, 2019 and before January 21, 2020 will get the Fable costume and Hongmoon Black Feather bonus item delivered immediately, and the Double Take costume set will be delivered on January 23.
Any new subscriptions that are purchased after maintenance begins on January 22, 2020 and beyond will only receive the Double Take costume set.
As a reminder, the 365 Day Premium Membership costumes will be rotated out on or near the Blade & Soul anniversary—January 19—so you'll always know when the new costume is coming.
You can purchase a 365 Day Premium Membership now by visiting our store page. Make your purchase before January 21, 2020 and get it all—the Double Take costume set and the Fable costume set for you and your familiar!