[DE] Zur Ankündigung auf Deutsch [LINK]
[FR] Voir Annonce en français [LIEN]
[ES] Ver aviso en español [LINK]
[TH] อ่านประกาศภาษาไทย [LINK]
[ID] Baca pengumuman dalam bahasa Indonesia [Link]
[RU] Информация на русском [LINK]
Greetings, Adventurers!
Grave news! The infamous Asula Bandits have been sighted.
We need your help!
Find out more below: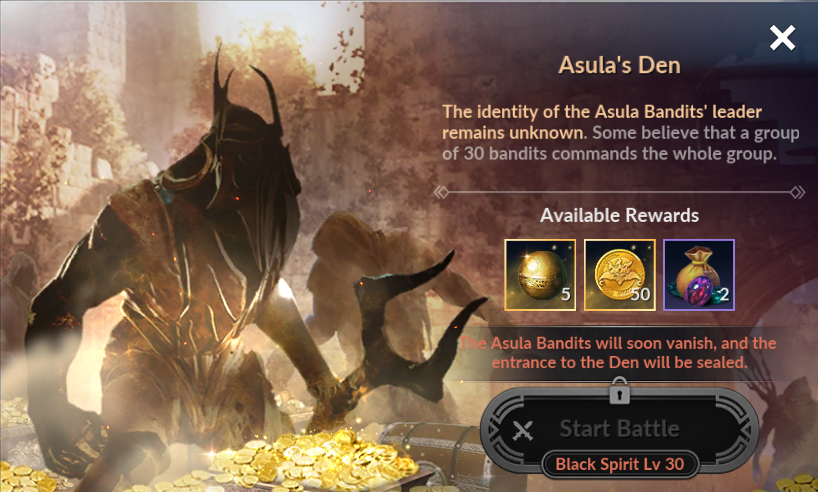 ■ Event Period
2020. 1. 23 (Wednesday) – 2020.01.28 (Tuesday)
■ Event Details
1) Asula's Den will appear during set times.
2) When available, Asula's Den can be entered through the icon next to the mini-map.
3) Defeat the Asula Bandits and receive rewards.
※ Asula's Den can be cleared once every day between (12:00 ~ 22:00 server time)
※ Please Note
– Black Spirit level 30 or above is required to do the event.
– Adventurers can try again if they leave or die.
– Auto-mode is disabled within Asula's Den.
– Adventurers cannot enter Asula's Den outside of the event time.
– The event period is subject to change.
– This event follows our [Event Policy] and the [Black Desert Mobile Operational Policy].
Thank you.