Shroud Of The Avatar Shows Off Changes To Upper Tears

Greetings Fellow Avatars! Here's what we have for you in this week's edition of Update of the Avatar:
News Announcements
Community Updates
---
Upper Tears Reborn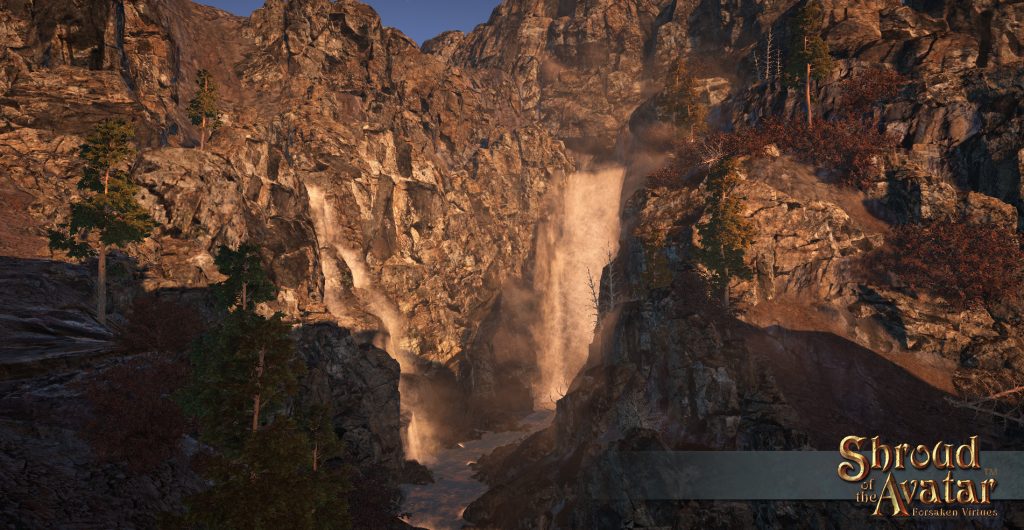 Greetings Avatars!
Word has spread throughout the land that new dangers await adventurers in Upper Tears! The undead which inhabit this territory have sent word to their masters that their rest has been disturbed–many times! Over and over! In fact, they were being grinded for experience, with only the magical powers of Experience Attenuation holding adventurers at bay. Take caution Avatars! Reinforcements have arrived!  The denizens lurking behind the waterfall of Upper Tears will now have much greater power at their disposal! Enemies that Charge! Enemies with Chain Lightning!
These changes as well some combat balance and attenuation changes are now patched into QA and should patch into the live server soon! These are just some of the many exciting items coming your way this year. If you missed out on what's on the horizon, be sure to check out the 2020 Vision Post by Chris Spears.
---
Upper Tears Reborn Livestream Today!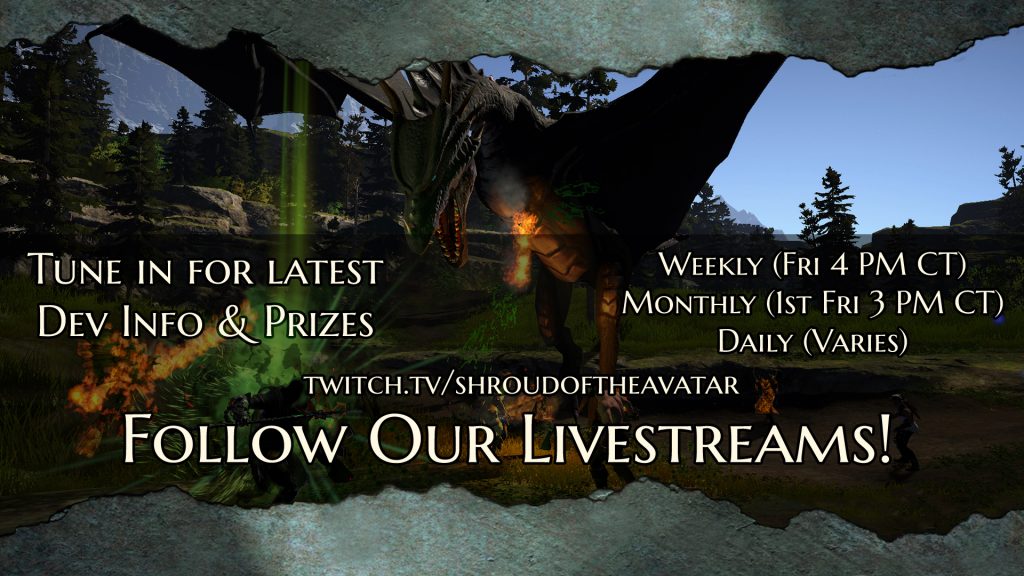 Another content packed weekly Community Livestream is this Friday January 24, at 4 PM CT on Twitch! Chris Spears will demonstrate the changes to Upper Tears, Combat Balance and Attenuation!
As usual we will be giving out prizes at 4:15 and 4:45! To be eligible all you need to do is either make any purchase in the store or log into the game and type "The weather outside is frightful" in the chat window (no purchase necessary).
Watch on Twitch today, Friday at 4 PM CDT!
Attention Avatars! For those who missed out on the holiday Crown of the Obsidian sale, worry not! For it has returned for a short weekend Holiday Sale Revival! Crowns will be on sale for the entire weekend. You might just need it after seeing what's up on the vault this round. Enjoy!
---
Winter Vault Round!
The Vault: Current round of Vault items are available until Thursday, January 30 at 10:30 AM Central Time. At that time, the next round of 9 items will be available for two weeks, and then the next, etc.

Ice Hot Tub (Vault Edition)
Virtue Icicle Cloak(Vault Edition)
Virtue Icicle Sword (Vault Edition)
Virtue Ice Wand (Vault Edition)
Virtue Ice Shield (Vault Edition)
Virtue Ice Gown Outfit (Vault Edition)
Virtue Ice Crown (Vault Edition)
---
January Login Reward: Krampus Statue
To celebrate the final month of Dark Winter, every player who logs in during the month of January will receive a unique Krampus Statue!  To receive the rewards simply login to the game before the end of January and check your rewards tab!
---
Release 73 Reward Program Exclusive Items: Winter Holiday Theme!
Winter has arrived so the Rewards Program items for Release 73 are Winter Holiday themed! Reward Program members will receive these exclusive items immediately upon logging in during Release 73!
Candy Cane Wand
Ceiling Yule Tree
Desktop Elf Statue with Yule Hat
NOTE: You must login during the release to receive each release's exclusive rewards.
The Shroud of the Avatar Rewards Program lets you earn the best rate on purchasing Gold Crowns, AND receive exclusive monthly reward items!
For the low price of $9 USD per month you will receive the following:
900 Gold Crowns of the Obsidians every month
Exclusive Monthly Reward Items (~ 3 per month)
Exclusive Title every 3 months

3 Months: Keeper of the Faith
6 Months: Keeper of the Word
9 Months: Keeper of the Vow
12 Months: Keeper of the Flame
15 Months: Keeper of the Oath
18 Months: Keeper of the Pledge

Pick any Dye 12 Pack every 6 months
Pick any three of the 7 Obsidian Potions every month, including:

Potion of Capacity: Increases carrying capacity
Potion of Conservation: Reduces reagent use chance
Potion of Expedience: Swift gathering on all gathering skills
Potion of Precision: Increases Meticulous Collection to all gathering skills
Potion of Preservation: Reduces armor and weapon damage
Potion of Reclamation: Increases Salvage and Repair to all production skills
---
Are You a Livestreamer?

Soon, the Streaming Reward Program will be returning.  As the details are getting reworked, we'll reveal more information.  Traditional streaming rewards included an exclusive in-game Streamer Camera for being a veteran of our Streaming Program! Expect the camera reward to return!  More goodies will come to your way as the program fully develops. Thank you for streaming Shroud of the Avatar!
---
Lord of the Isle Episode 2 Bundles
As one of the biggest and earliest supporters of Episode 2 you will be granted the largest lot deed in the land (Castle), the title Lord (or Lady) of the Isle, a tour of the Portalarium Offices, and dinner with the game leaders including Lord British himself! Only 24 of these unique bundles will be sold! 
Complete List of Rewards:
Lord of the Isle Place Anywhere Castle Lot Deed: Tax Free Forever (when placed in a POT) and Tax Free for 1 Year (when placed outside of a POT). Placeable on water as well as land!
Title: Lord of the Isle or Lady of the Isle
Unique Lord of the Isle Home (to be revealed later)
NEW: A Festival of the Avatar FULL ticket (which includes admission, King's Dinner, Barons Men Play, A Heraldry Banner) and one additional guest at a discounted rate.
PLUS Choice of any 1 House currently available in the store
Castle Basement currently available in the store of your choice
Castle Wall Set currently available in the store of your choice (with enough for Castle Lot)
Unique Lord of the Isle Dungeon Room (to be revealed later)
140,000 Crowns
999 Bank Slots
Pick 12 Prosperity Tools
2 Unique in-game items (to be revealed later)
Early Access to Episode 2
Episode 1 Box and map signed by the team
1 hour one on one with Chris for design discussion (via video-conference)
One real silver ring crafted personally by Lord British: Numbered 1 – 8
In-game version of the Lord British ring: Numbered 1 – 8 (including a place-able decoration version)
Tour of Portalarium Offices
Fine dinner and drinks with Lord British, Darkstarr, & Atos at a location TBD in Austin or NYC.
NOTE: Digital items that are currently available will begin delivery as soon as Release 62 (Jan 31). Other items will be delivered at a future date TBD.
NOTE: Travel costs NOT covered by Portalarium for Tour & Dinner.
---
Recent Shroud of the Avatar Livestreams (YouTube)
Atos and other members of the Shroud of the Avatar development team go live very frequently on our TWO Twitch Channels: twitch.tv/shroudoftheavatar and twitch.tv/communityoftheavatar — be sure to get these channels on follow and get the latest information right as we go live! Also, if you've missed our latest streams, check out our archive of content at our YouTube Channel (complete with "Mojito the dog" cam). Like! Follow! Subscribe! Prizes!!!
---
Upcoming Events Calendar
Be sure to check out the Community Events section of the forum for events hosted by our wonderful community members!  Below is a list of additional events as the year progresses:
2020 Events
Jan 30 – Release 74
Feb 27 – Release 75
Mar 26 – Release 76
Apr 30 – Release 77
May 28 – Release 78
June 25 – Release 79
July 30 – Release 80
Aug 27 – Release 81
---
Meretz: Win a Dry Docked Huge Pirate Galleon (Vault Edition)
Whether you move a little or a lot, as a Meretz user you rack up valuable Meretz Points (MPs). The more MPs you have, the more stuff you can buy!
Think: in-game SotA goodies, Sweepstakes entries, Relics by Rild giveaways, and tons more. With Meretz, we launch several sweepstakes every month. This month, we're giving away an Dry Docked Huge Pirate Galleon Keep Sized Home (Vault Edition)! You can also enter to win a Relics By Rild $50 Gift Card and other cool prizes. AND, use your MPs every day for in-game items like potions and emotes.
What're you waiting for? Download Meretz TODAY!

---
Community Events: Virtue Radio Release Party Hosting & Holiday Coverage Planning
[Forum Post by Alleine Dragonfyre]
Welcome to The Virtue Radio Release Party Hosting & Holiday Coverage Planning Thread!
In the past, many Avatars that would have liked to host Release Parties were not able to because of a few key obstacles. The biggest one was that a lot of Avatars didn't know they could host a Release Party or how to sign up to be a host. A few times, last year, we lost a few hosts due to RL or they were not playing at the time. To be fair, knowing what the future holds 5-10 months ahead can be a challenge!​
So we've decided to come up with a new way for Avatars to request hosting a Release Party that should help solve that stuff and make it super fair for everyone too.
By the way, we provide a custom-artwork poster for the Release Party that includes photography from your venue (be ready for Alleine's camera a few weeks before the party!) and distribute it in Social Media, Discord and the official Forums. Of course, hosts may distriubute their posters wherever they wish as well.​
Here's how Hosting works:
Every month, the week immediately following the current Release Party, we will be posting a request for volunteers wishing to host the next Release Party right here in the forums.
If you would like to host a Release Party, simply add a reply to this thread, AFTER the notice goes up, saying which in-game Avatar will be hosting. We will keep the post open for 7 days.
After 7 days, we will take everyone's name and drop it in a hat, live on Twitch, and choose a winner. The winner will host the next Release Party!
We will be drawing a 2nd name as a backup in case something happens with the winning host.
Release Party Host Rules:​
ANYONE can host a Release Party. As long as you have a space that can fit anywhere from 30-100 rowdy Avatars and potentially the following: random monster spawns, fireworks, streakers, forest and farm animals, time warps, television coverage, pvp attendees, erratic weather and general chaos.
Join us on the Avatars Radio Discord Chat to discuss planning: https://discord.gg/G47DsdC
You may only host one Release Party per year. This includes alts.
The Zone you plan on hosting a Release Party must have PvP allowed. Release parties are all-inclusive.​
More information at Alleine's original post on the Shroud of the Avatar Forums! If you have an event you'd like publicized during the Weekly Updates, contact Elgarion on the forums!
---
Project to Support – Crowfall
Be part of shaping the next great MMO by becoming a Crowfall Backer! Crowfall is the first and only online Throne War game. You can win. Join intense PvP battles that demand strategy, survival and a fierce competitive spirit. Reap the spoils of war as an Eternal Champion!
Claim virtual territory on behalf of your guild or faction. Capture mines, mills, and quarries to secure resources, build castles, and besiege your neighbors. Scavenge artifacts and relics from the Dying Worlds and install them in your temples to grant blessings to your vassals. Capture lost spirits to do your bidding — or bind them into your weapons to infuse them with sorcerous power!
---
Project to Support – Pantheon Rise of the Fallen
Pantheon: Rise of the Fallen takes place on the high-fantasy world of Terminus, a wildly diverse land formed from fragments of many different realms and times, bringing with them their unique civilizations and deities. Explore long lost realms, as their people and cultures vie for power and form alliances, struggling to gain a foothold in an unfamiliar world. Uncover civilizations and awe-inspiring locales that offer incredible adventures for you and your friends to experience. Enter a world where the environment itself tells the story and where content is always king!
UPDATE: We were stunned to learn of the untimely passing of Brad McQuaid recently. He was one of the true pioneers and visionaries of our industry who brought Everquest to us. We have few words that can express how much we respect him; so we choose to honor him with a flaming sword tomb in Brittany Graveyard that reads: "Aradune: For the Brightest Flame Burns the Least Long".
---
Project to Support – Avatar Express
[Forum post by Vladamir Begemot]
I'm pleased to report that The Avatar Express is clacking away furiously. News is being delivered and we have established systems to deliver it directly to your brain.  You can use one of those systems by following us on Twitter at @avatar_express.  Even more reliable due to its fully automated nature is joining us on the Discord server. News items are posted there via RSS.  Or you can subscribe to RSS directly on the site.
If you run an event, quests, etc, please consider helping out by self reporting. The Shroud community is big, and many things are happening that are never seen by others. With 10k monthly users, we would need a full time staff to track down everything that is happening.
You can fill out the contributor form, message @that_shawn_guy here or post in the Discord server that you would like to help. There is no committment once signed up, you can post as much or little as you like.
Writing up your own events has several benefits beyond the immidiate exposure. It serves as a record for others to see the history of New Britannia as we create it, in an attractive format. Publishing in the Express also has a higher chance than the forums of being seen by search engines and random readers, thus bringing more eyeballs and new players to the game.
It will even make posting in the forums easier! You can upload images to your news item, and then link to those images in your forum post. No more need for 3rd party image hosts!
So if you have something going on in your guild or town, or want to be a Reporter, Cartographer or Historian, please join us!

---
Resources – Players Helping Players
The official SotA New Player Welcome Forum and the Player Created Resources Forum have the best player created resources for Shroud of the Avatar, whether it's a Player Written Guide, a Video Walk-through, or a Wiki-type Website.
Visit the official Community Resources page for a complete listing of all things community.