Black Desert Mobile [2/11] Sweet Candy Bingo Event


[DE] Zur Ankündigung auf Deutsch [LINK]
[FR] Voir Annonce en français [LIEN]
[ES] Ver aviso en español [LINK]
[TH] อ่านประกาศภาษาไทย [LINK]
[ID] Baca pengumuman dalam bahasa Indonesia [Link]
[RU] Информация на русском [LINK]
Greetings, Adventurers!
It's that time of year again; the time filled with sweetness and love!
We are holding the "Sweet Candy Bingo Event" to celebrate!
📢 Event Period
After the 2/11 Maintenance – 1st maintenance of March (3 weeks)
📢 Event Details
1) Obtain [Sweet Candy] by completing daily missions during the event period.
2) Use 2 [Sweet Candy] to unlock a random Bingo square and gain its reward. Work towards completing the requirements for various Bingo Completion Rewards.
3) Obtain an [Epic Accessory Chest] for completing the Bingo board.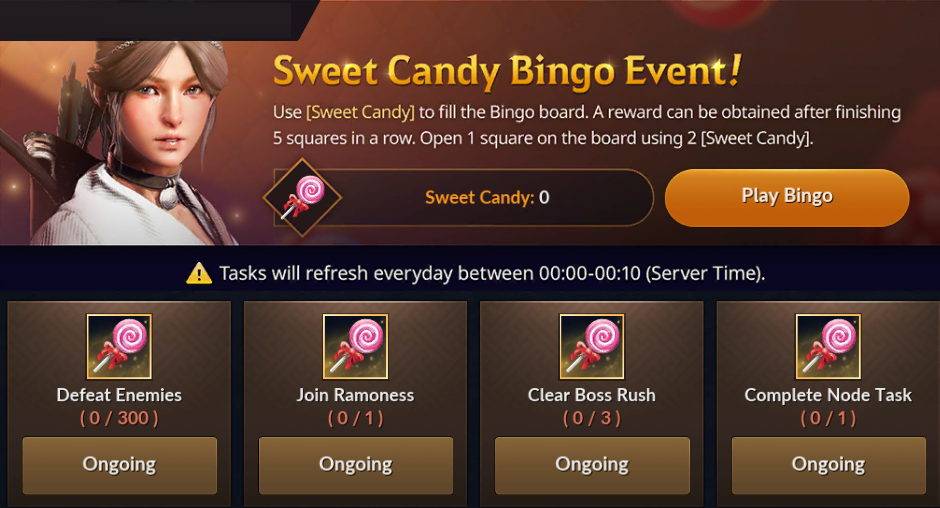 ※ Please Note
– All [Sweet Candy] will be deleted once the event period ends.
– The event period is subject to change.
– This event follows our [Event Policy] and [Black Desert Mobile Operational Policy].
Thank you.