Albion Online's Latest Update Tweaks Avalonians, Streamlines Ui, And Polishes Elite Dungeons


Queen Patch 4 is Live
The fourth patch of the Queen update brings further improvements and fixes to the world of Albion.
---
We've rolled out numerous patches since last month's Queen update – and this week is no exception! Today's patch brings a wide range of visual, audio, and environmental updates, covering everything from Avalonians and Elite Dungeons to various UI and quality-of-life improvements.
Caerleon Realmgate Statue Unveiled
First and foremost, though, there's a new statue at the former site of the Caerleon Realmgate. It honors Avalonian Invasion season winners Error404, Black Order and RAQ, as well as all those who worked tirelessly to prevent the Avalonian takeover of the Royal Continent. Stop by and pay your respects!
You can read more about the history and lore of the Avalonians here.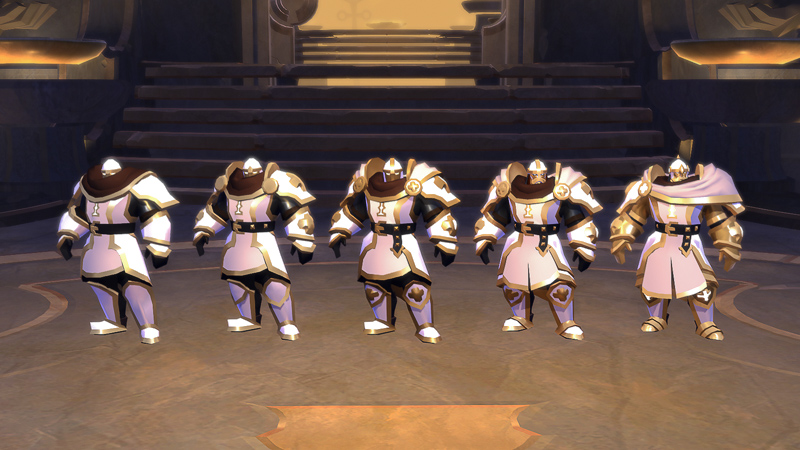 Elite Dungeon Makeover + Other Fixes
Apart from the new statue, this patch brings numerous improvements and fixes to a wide range of gameplay features. Foremost among these are improvements to Avalonian enemies, dungeons, and armor. Here's just a small selection of what's changed:
Appearance of Avalonian armor now changes based on tier
Overall polishing and improvement of Elite Dungeon environments
Clearer Avalonian enemy spell and spell area effects
Improved audio for Avalonian enemies and Elite Dungeons
Improved minimaps for all major cities, including their banks, Marketplaces, and Conquerors' Halls
Extensive streamlining and improvement of loot, guild, combat area, and island move UIs
You can read the full list of changes on the official patchnotes page.
Queen Patch 4 – Ver. 1.16.393 / REV 160378 – 19 February 2020
Caerleon Realmgate Memorial Statue
A monument has been built at the destroyed Caerleon Realmgate in honor of those who fought off the Avalonian Invasion. It honors the top three guilds of the Standalone Season:
Error404: Main Statue w/Guild Banner, Monument Text
Black Order: Side Statue w/Guild Banner
RAQ: Side Statue w/Guild Banner
Visit the former site of the Realmate in Caerleon and pay your respects!
Improvements
The magic of the Avalonians now includes interior decorating, bringing new splendor to their dungeons in the form of various art, effect, audio, and terrain improvements
Avalonian Armors now change appearance as their tier increases (T4-T8)
Improved visual effects for reflected damage for Thorns, Inferno Shield, and Frost Shield spells
Elite Dungeons opened via Dungeon Maps now have their own marker to differentiate them from other dungeon types
Improved minimaps for all major cities, including their banks, Marketplaces, and Conquerors' Halls
Loot UIs now load faster and scroll more smoothly
Audio improvements:

Polished and cleaned up all Avalonian mob sounds and expanded sound set of Avalonian Winged Guard (Eagle)
Improved and expanded sound sets for all bear mounts
Added new voiceovers for Morgana Fang and Morgana Magistra
Updated Territory defense beam sound and lowered its volume
Changes
Being transported out of a zone by the Smart Cluster Queue now gives a guaranteed protection bubble
The Avalonian Priest's Divine Beam now includes a heal-over-time effect, which stacks while the beam is active to give more healing, and remains active for 10 tics after the bean ends (can be purged)
To differentiate between them in combat, armor types have received a slight visual scaling adjustment: plate armors are now slightly larger, while cloth armors are now slightly smaller
Hideout and Territory Fixes
Limited furniture placement in various parts of territories and Hideouts, including Hideout exits where furniture would prevent players from leaving
Marketplace notifications for items bought/sold in Hideouts now correctly reference the Hideout name
Renamed "Territories" section of Guild UI to "Guild Estates", which is now expanded to include Guild Island, Hideouts, and Territories

Note: clicking the icon next to an item on this list will show its position on the world map

Fixed an issue where members of non-defending guilds could not view the battle UI of an upcoming territory battle via the world map
Fixed an issue where scheduled territory battles were not displayed on the territory UI when opened via the Guild UI
Numerous additional fixes and improvements to the Territory, City Fight, and Crystal League signup UIs
Other Fixes
Caerleon now correctly registers as "Last City" for respawn purposes when it is the last city visited before dying
Improved readability of Smart Cluster Queue UI and Island Move UI
Fixed an issue where party kills were not correctly triggering three achievements:

Bound By His Oath
In a League of Their Own
Pull the Plug

Two-handed vanity items now display in the offhand slot as well when equipped
Desert Wolves have been renamed to "Hyenas" to more accurately reflect their appearance and sound
Fixed an issue where the Guild Challenge UI displayed incorrectly for some players without guilds
Mercenary Laborers now display more accurate return ranges
Additional minor animation, terrain, graphical, audio, and localization fixes
We'll be deploying additional patches in the coming weeks to bring even more improvements and fixes to the game. As always, we welcome your feedback on Discord or our forums!