Fortnite 12.00 Patch Notes (Season 2) – Detailed Unofficial Update Information


These are the unofficial Fortnite 12.00 Patch Notes! Epic hasn't been compiling detailed notes for every patch like they used to, so we're putting together a list of everything that changed in the new update. We have bug fix information, and will be posting whatever else has been added to the game. We will add the official patch notes if they are posted.
Patch Release Date & Time
The Fortnite 12.00 Patch is scheduled to be released on February 20th, 2020. Since this is going to be the start of Chapter 2: Season 2, you can expect extended downtime. Normally, we'll get an hour or two of it, but I would expect anywhere from four to eight hours for a major patch like this one.
The time has yet to be officially announced, we just know for sure that the patch is scheduled for the 20th! We'll be updating this post with additional information as it is released.
FORTNITE 12.00 PATCH BUG FIXES
Here are the expected bug fixes for the 12.00 patch. These were taken from the Trello that display all of the stuff that Epic is working on in terms of bugs.
General Issues
When selecting a Friend in the Social menu, the Friend sub-menu may either close prematurely or not open.
Players may get stuck on a loading screen after they accept an invite before selecting a game mode.
Players may be unable to select traps with a controller when the 'Pick up' indicator is on-screen.
Battle Royale Issues
Players may experience a crash when selecting the Controller settings menu.
Players can get stuck in the Lobby with no inputs being recognized after Refunding a purchase.
PC players who receive a party invite before getting to the lobby may get an error message that says: Could not join party [Player]'s party is private.
Pressing the button to switch to the Pickaxe may instead result in picking up a DBNO teammate.
Parental controls are unable to be disabled.
Players may be temporarily unable to move or do any other action after Emoting.
Using one of the movement keys to exit the inventory can cause a delay when subsequently trying to use one of the keys to move.
Creative Issues
The border silhouette of a cube is not showing.
Players may be unable to move the Quadcrasher forward or reverse on Nintendo Switch.
Save the World Issues
The Vindertech Seeker bow may not properly damage Husks on Impact. There are partial fixes in 11.40 related to collision that may resolve this issue.
Ramp and Beach North have overlapping spawns in the Twine SSD. This causes player player built structures to be destroyed on Husks Spawn.
Sometimes the teammate info in the game UI and menu does not properly load in.
The scope on the neon sniper while ADS shows high levels of static and distortion while ADS.
Crafting materials are not properly returned when recycling a Defender Pad in in in the main menu.
Mobile Issues
We are aware of an issue for Android 10 OS players being unable to load into Creative mode.
Client may sometimes get stuck shooting with a controller on iPad.
When selecting/equipping Locker cosmetics using the Switch touch screen.
We're aware of an issue where players cannot press A to enter the parental controls code on Switch because A is also assigned to the back button.
UNOFFICIAL PATCH NOTES
Here's where we will be detailing all of the things that have been added to the game that weren't covered by Epic. If you're looking for leaked cosmetics, we will have a full look at them right here. If you're curious what the new skins look like, we'll have them on our Season 2 Battle Pass Skins post!
It's very likely we're going to have quite a few things pop up that will make it here due to this being quite a big patch. We'll try our best to cover everything that is left out of the official patch notes once the patch has been released!
Licensed Emote Audio Option
If you're a content creator then you'll have the option to mute audio from licensed audio! This is useful if you're worried about YouTube or Twitch flagging your video if someone uses an emote like Never Gonna near you. This option will currently only be available for PC, but will be rolling out to console players in a later patch. It also likely means that Epic will be adding more Emotes that use licensed audio in the future!
PC Players: In the 12.00 update, we've added the ability to mute Licensed Emote Audio. This option is available in the game's Audio settings. – Source
We also intend to bring this Audio setting to other platforms in future updates. We will update everyone when that happens. – Source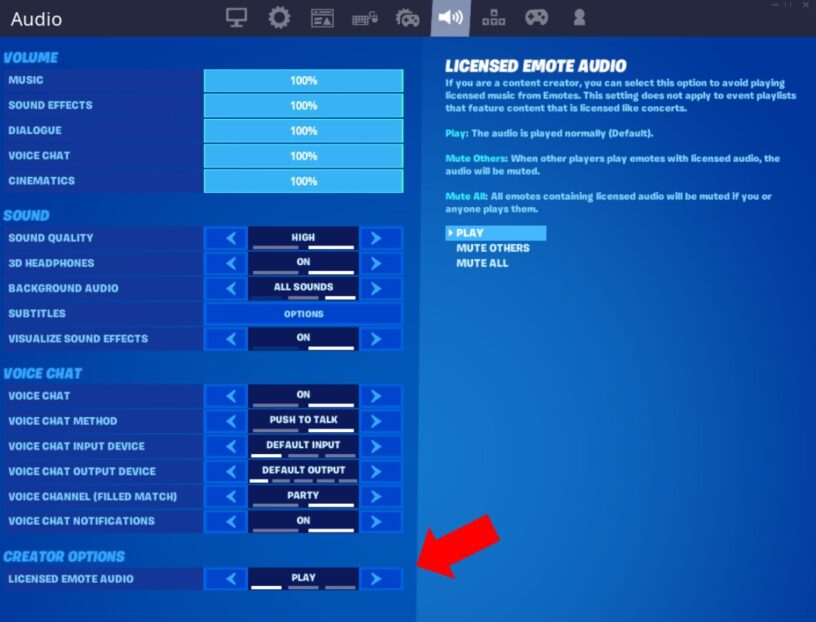 Team Rumble Changes
Team Rumble is getting some rule changes that sound pretty good! You won't need to worry about deciding on keeping your Glider redeployment anymore, because it will be a free ability now. You also start with 150 of each of the mats, and you will only find blue or better weaponry!
All weapons blue or better
Bandages removed
Glider redeployment now a free ability (doesn't take a slot)
150/150/150 mats granted at match start
Skill-based matchmaking turned off
Increased elim goal to 125