Ultima Online's Next Update Will Feature An Overhaul To Its Quest System

The UO Team is happy to announce we will be sending out a newsletter periodically so you can stay up to date on the latest in Britannia!

Please encourage your friends to sign up on our web site.
Producer Notes
Greetings,
We would like everyone to know the UO team is still hard at work on future publishes, but due to the coronavirus outbreak we are just doing it at home.  The UO Team is all healthy and hard at work and we hope everyone is being safe and staying at home if at all possible.  Please take care of yourselves and your families.
Publish 108 has been released World Wide so if you haven't checked it out, have a look at the publish notes and come join the fun.  One exciting and often requested late addition to Publish 108 is the reactivation of Treasures of Tokuno – so if you missed the event during its initial run, now is your chance to!
We are currently working on Publish 109.  The next publish will involve a quest system revamp, new store items, new holiday & promotional items, new tools for the EMs and more!  We have to finally break down and do the quest revamp so we can ease the implementation of events & quests in the future.  This tool will also be extended to the Event Moderators to help their creative minds grow with different types of events.
We would like to thank everyone for all the feedback and your participation with this publish!
We would like to invite you to our Dev Meet and Greets for the month of March/ April
Monday, March 30th, Drachenfels @ 2pm ET
Monday, April 27th, Europa @ 4 pm ET
The following are actions taken on accounts that were banned or suspended during the month of March:
59  –  Macroing
12 –   Solicitation
22 –  Multiboxing
2 –    Disruptive Behavior
1  –   Naming Violation
See you in Britannia,
Bonnie "Mesanna" Armstrong
Producer
Quest System Overhaul
One of the greatest challenges to implementing new content is contending with the lack of a unified quest system.  Over the years we have made changes to a patchwork of systems in an attempt to address these concerns, but none of those have really gotten us to where we want to be.  We are pleased to announce that coming in Publish 109 will be a full enhancement of the systems used to guide players through their adventures in Britannia while offering an immersive UI that drives the narrative and makes you feel as though you are deep in the action.  This overhaul will also expand these tools to our Event Moderators giving them unprecedented creative freedom to build more immersive and robust events.  You can check out an early mockup of the new UI below!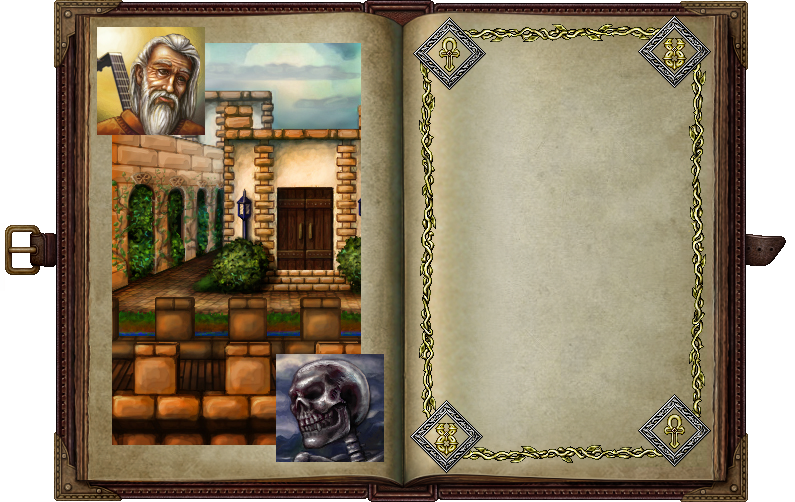 Question & Answer
1.   There has been a noticable uptick in the use of ghost cams in areas throughout the world, can you do something to address this?
This is something we are aware of an are investigating the best solution to resolve the issue in Publish 109.
2.   Is it possible to make invasion level spellbooks available again?
Yes – we plan to release these as rewards in future content.
3.  With the latest publish there is now an issue with "navrey holes" – what can be done about it?
With the addition of the spiral staircase a change was made to how teleporters work to account for house security settings.  This has caused an issue with "navrey holes" that are locked down in player's houses.  Players who wish to donate these items to the shard-at-large should contact mesanna@broadsword.com to have them collected and placed at the EM Reward Hall for public use.
4.   There are a number of unclaimed soulstones sitting on various shards – how do you claim a soulstone and how long will they last there?
If you would like to recover a soulstone from the soulstone graveyard, please contact your Shard EM or Mesanna@broadsword.com
In the coming weeks we will be sun-setting the soulstone graveyards.  Please keep an eye on UO.com for the full details and timetable for this process.
Customer Service
ACCOUNT RECOVERY VERIFICATION
For the billing support at support@ultimaonline.com to sufficiently verify ownership of an account you wish to recover, information that is currently set on the account has to be verified. Please note that account recovery requests are reviewed on a case-by-case basis.
If a secret word is saved on the desired account(s), we will be happy to provide the secret word hint(s).
Accounts that have been closed within the last year require the secret word and 2 pieces of information.
Accounts that have been closed for more than a year require only the secret word, if a secret word is not set then 4 pieces of information are required.
Information used for verification are as follows:
Account name
Email
First and last name
Date of birth
Phone number
Key codes
Payment information (CC)
Date account was open/closed
State/country
ACCOUNT RECOVERY AND GENERAL ACCOUNT, BILLING OR TECHNICAL RELATED ISSUE
To recover an account, please email support@ultimaonline.com so that the Billing Support has a ticket in the system. Keep an eye out for the automated reply requesting account verification for the Billing Support Team to assist further.
•  How to create an account or log into my account?
http://uo.com/Account-Login-Guide
•  How to manage my accounts after I've logged into the Account Center?
http://uo.com/account-management/
http://uo.com/faq/
PASSWORD ISSUES
To reset your password you must first understand which type of account you are resetting the password for.
EA Accounts, Mythic Master Accounts, and Mythic Product / Game Accounts all have separate individual passwords. All of which you can reset at our Account Center at https://accounts.eamythic.com/.
•  To reset your EA Account password:
* Please visit https://signin.ea.com/p/web/resetPassword
* At the EA page enter the email used to log into your EA Account to change its password.
* If you have not received your password or have received an error while trying to reset the password and you have disabled all spam filters, please contact EA Support here.
TERMINATED ACCOUNTS
If you have an account that was terminated by CS over a year ago and would like to have it back, please contact the Dispute Team from the email associated with the account at dispute@ultimaonlince.com for further investigation and a possible one-time reprieve.
IN-GAME SUPPORT
For in-game issues or question, please submit an in-game help request for a Game Master to contact you.
FEEDBACK
To submit your suggestions and feedback regarding game content, mechanics, or design, please send them to UO@broadsword.com.
EA ORIGIN – ORDERS, CODES, AND THIRD PARTY RESELLERS
Sovereigns Coin Codes purchased from EA Origin have to be redeemed on the Account Center; you cannot enter these in game.
Sovereign Coin Codes that have been redeemed are bound to the EA Account they were redeemed on and are only usable by the accounts linked with that EA Account; Sovereign Coin currency may not be transferred.
If you are having issues with your EA Origin purchase, follow this link to resolve the issue.
CODE PURCHASE DELAY
You may have noticed that Origin Store purchases made did not arrived as expected. The Origin Store enacts reviews on all transactions to safeguard against fraudulent purchases, and these reviews may take up to 72 hours. Unfortunately our Billing department is not able to expedite or circumvent this process. However, players who have questions or concerns regarding a store purchase can contact Origin Support for assistance using the below steps:
1)  Go here, https://help.ea.com/en/contact-us/?product=origin&platform=pc
2)  Select topic* – select Orders
3)  Select issue*
4)  Click on "Select contact option"
5)  Sign in with your EA Account or click on "Get help from an advisor without logging in." if you're having trouble signing in.
THIRD PARTY RESELLERS
We would also like to reiterate that the Origin store is the only guaranteed provider of codes for Ultima Online. The validity of a code purchased from a third-party seller (be it a friend, in-game acquaintance, or recommended site) cannot be guaranteed. Furthermore, any codes we find to have be fraudulently obtained will be disabled and an account that applies any of these codes will have that code removed from said account. This can result in the loss of game time, character slots, expansion access, Sovereigns (and the items purchased with them), in-game items and more. Please be advised that we cannot assist with any issues stemming from codes purchased via non-Origin means; you will be required to contact the vendor from which you purchased the code for further assistance.