Black Desert [6/30] Ancient Ruins Update! Daily Missions Event


[DE] Zur Ankündigung auf Deutsch [LINK]
[FR] Voir Annonce en français [LIEN]
[ES] Ver aviso en español [LINK]
[TH] อ่านประกาศภาษาไทย [LINK]
[ID] Baca pengumuman dalam bahasa Indonesia [Link]
[RU] Информация на русском [LINK]
[PT] Ver aviso em português [LINK]
Greetings, Adventurers!
Explore to discover the many hidden truths inside the Ancient Ruins!
Complete the Ancient Ruins daily missions every day to get awesome rewards!
See below for more information about this event.
📢 Event Period
From June 30 (Tuesday), 00:00 – Until July 13 (Monday), 23:59
※ The event will be available on June 30, 00:00 without server maintenance.
📢 Event Details
1) You can get 3 [Boss Stamp & Ancient Tablet Chest] when you complete the Ancient Ruins 3 times during the event period.
2) You'll get 40 Boss Stamps and 40 Ancient Tablets when you use the [Boss Stamp & Ancient Tablet Chest].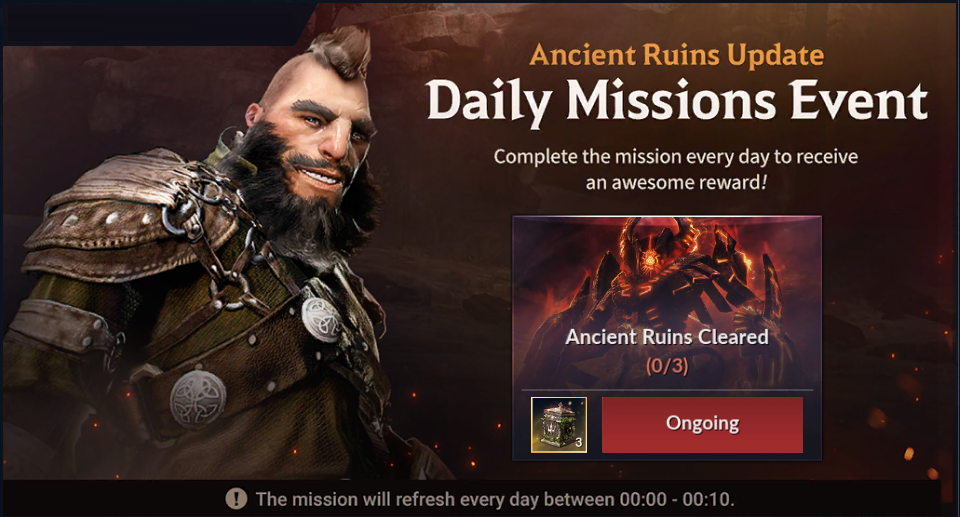 ※ Please Note
– The mission list will reset every day between 00:00 – 00:10.
– The event period is subject to change.
Thank you.