Black Desert [7/7] Awakening Celebration! Daily Mission Pass


[DE] Zur Ankündigung auf Deutsch [LINK]
[FR] Voir Annonce en français [LIEN]
[ES] Ver aviso en español [LINK]
[TH] อ่านประกาศภาษาไทย [LINK]
[ID] Baca pengumuman dalam bahasa Indonesia [Link]
[RU] Информация на русском [LINK]
[PT] Ver aviso em português [LINK]
Greetings, Adventurers!
The Awakening Update has finally arrived! To celebrate, Adventurers can now embark on the Daily Mission Pass Event!
Clear a mission to get awesome rewards, and clear all the daily missions to get the best reward!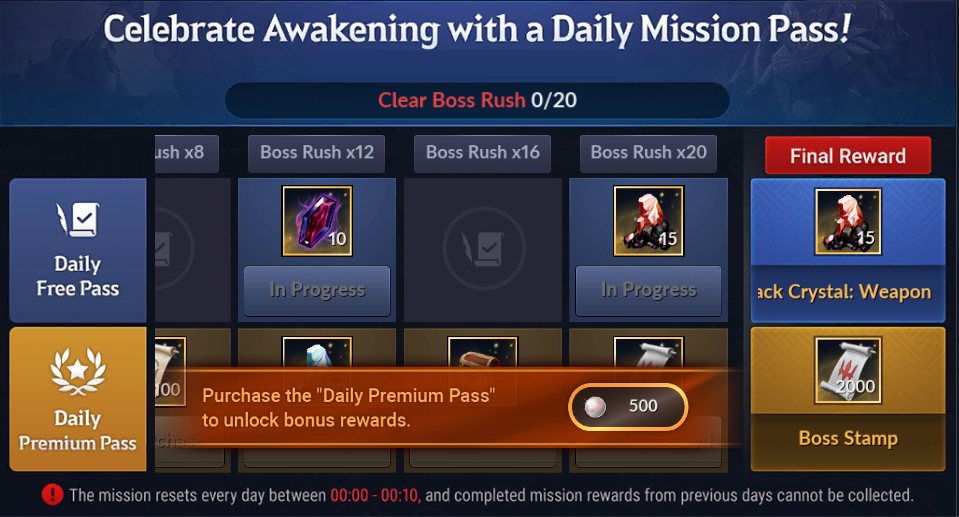 📢 Event Period
After the maintenance on July 7 (Tuesday) – Until July 21 (Tuesday) at 00:00 (Server Time)
📢 Event Details
1) Tap on the gift box icon beside the mini-map during the event period to access the event tab.
2) Tap on [Receive Today's Mission] to accept the attendance reward. You can accept one daily free pass mission per day.
3) When you complete each mission, you'll automatically collect the event reward when you check the mission pass event.
4) The final reward you can obtain through missions will change every day.
5) You can collect the Final Reward when you complete all missions.
6) You can collect additional rewards for that day when you purchase a Daily Premium Pass.
※ You can still collect rewards from completed missions after you purchase the Premium Pass.
※ Please Note
– The mission list will reset every day between 00:00 – 00:10.
– You must complete every daily mission before 23:59 from the day you purchased the Premium Pass for 500 Pearls, or you'll be unable to collect the final reward.
– When you tap [Collect] for each reward, it'll automatically be sent to your inventory.
– The event period is subject to change.
Thank you.