Black Desert [7/7] Awakening Celebration! Thank You Gift Event


[DE] Zur Ankündigung auf Deutsch [LINK]
[FR] Voir Annonce en français [LIEN]
[ES] Ver aviso en español [LINK]
[TH] อ่านประกาศภาษาไทย [LINK]
[ID] Baca pengumuman dalam bahasa Indonesia [Link]
[RU] Информация на русском [LINK]
[PT] Ver aviso em português [LINK]
Greetings, Adventurers!
We've prepared special gifts to express our gratitude in light of celebrating the Awakening update!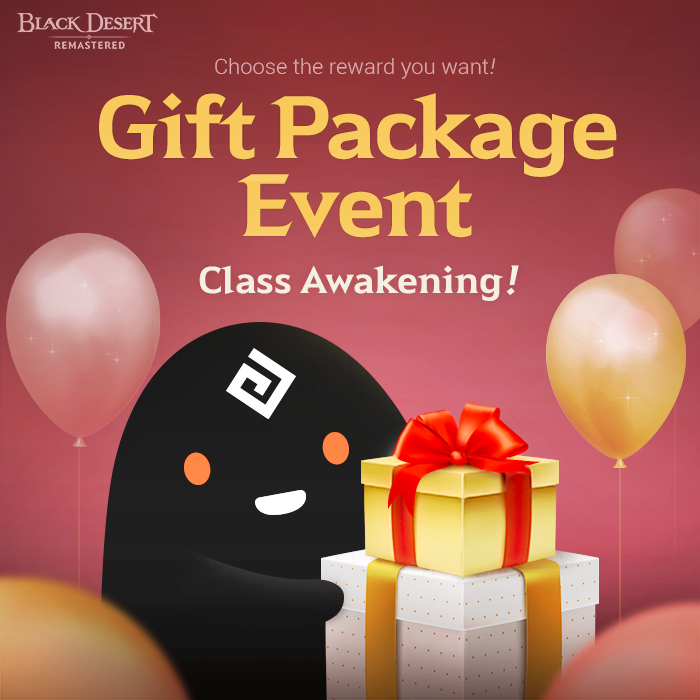 📢 Event Period
After the maintenance on July 7, 2020 – Until August 30, 2020 at 23:59 (Server Time)
📢 Event Details
– Get the [Heartfelt Gratitude Selection Chest] that arrived in your mailbox during the event period.
– Choose one of the chests you want upon use: Growth Booster Chest / Empowerment Chest / Enchantment Booster Chest.
※ Please Note
– The reward is available only once per Family.
– The reward is sent to the inventory of the character you are currently playing.
– You may not be able to transfer reward items to other characters. We recommend that you log in to the character you want to receive the item with before claiming the reward.
– The event period is subject to change.
Thank you.