Torchlight III Opens Ptr, Tests Endgame 'dun'djinn'


Check out our Discord, Facebook, Twitter, and Twitch to get the latest development news and updates.
Hey ya'll!
We are super excited to announce that we now have a Public Test Realm (PTR) available for players to check out and join!
Some people may think it's odd to have a Public Test Realm during Early Access, but we believe this is yet another avenue for us to expand our community's involvement during this process and further refine the game prior to launch.
In addition to more eyes previewing features in development, we believe the Public Test Realm will provide an alternative and more lax place to play Torchlight 3. It gives us as a team an environment to attempt quick patches, a place where the community can have additional characters/accounts to play (and break), and a whole bunch of players (away from the Live servers) for one community manager to torment with Giant Yapper town battles (don't say I didn't warn you…). 

We eagerly await your Fazeer's Dun'djinn Challenge feedback! A few things we want to mention about this Public Test Realm:
It is currently restricted to US players. We will remove this restriction once we bring more server locations online for the PTR (hopefully with the next PTR Relic Subclass update). Those who find a way around this restriction may find their experience to be laggy as they will be connecting to servers located in the US.
This PTR is considered a developmental environment. This means you may see game breaking bugs, unannounced downtime/updates, frequent wipes, and other random experiences that you might not see in the Live servers.
There is a 'cheat' NPC that is located on the docks of Trevail Point. This NPC is currently set to prepare you for the end game experience – Fazeer's Dun'djinn Challenge. You can interact with this NPC in order to help you grab gear, boost your character to a higher level, and complete the game so you can skip straight to the end game experience.
You can gain access by finding the code within the 

#public-test-realm

 channel topic of our 

Discord server

. You can enter this access code by right clicking Torchlight 3 within your Steam library, choosing the Properties option, and navigating to the BETAS tab to enter the code. Entering the access code here will give you an additional environment to choose from within the beta drop down options. You must be out of your game to change this dropdown and each time you swap from environment to environment, your game will update its client files to match the environment. If you have any issues swapping between the two, restart your Steam and try again.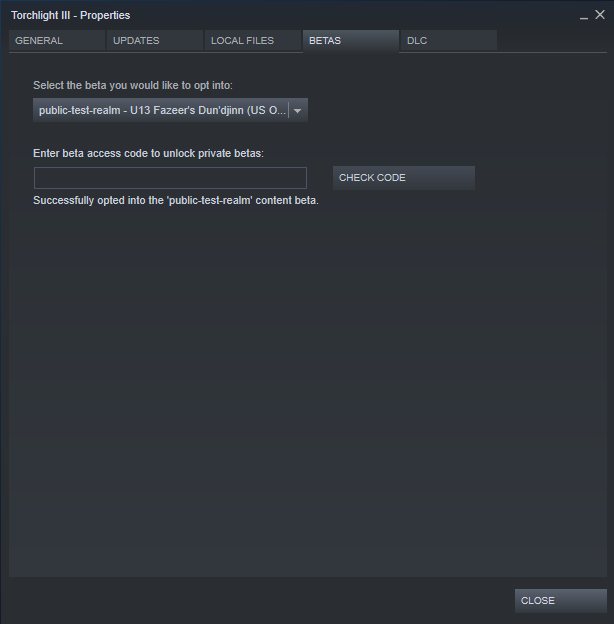 The PTR will not always be available! If you are unable to connect to the PTR verify that the current PTR is not disabled. You can view this in the BETAS tab in the Properties menu mentioned above.
You can chat about the 

#public-test-realm

 on our 

Discord server

 and send feedback by selecting the PTR option on 

http://tl3feedback.echtragames.com

. This is also where we will try to post early/rough Patch Notes for PTR (and upcoming Live patches) and other information regarding the Public Test Realm. You can stream the PTR, but we would advise streamers to indicate they are on a Public Test Realm to avoid confusion for their audience.
Your characters will not persist from the Live server. The characters that exist on the Live servers will not exist on the Public Test Realm. As mentioned above, we may also be liberal with character/account wipes so you may login one day to see your PTR characters completely gone. #blameyapper
This is a place to test things, have fun, and give early feedback. We are hoping that having more eyes on features in development, as well as an alternative place to play and break things, will provide for an unusual, albeit entertaining and experimental place to play Torchlight 3 that we can continue to have available far into the future.
We will continue to refine our approach to this Public Test Realm as we progress through Early Access, but for the moment we are really excited to hear all your early Fazeer's Dun'djinn Challenge feedback and be able to provide an alternative and more loose/fun place to playtest, patch, and get grade-A goblin wacky!
– Echtra Bean